It's that time of year again. The second you get in your car and turn on your radio, Christmas music begins funneling out of the speakers. Every retail store you enter has bright, holiday-inspired displays that are impossible to miss. Your favorite coffee shop has started serving their seasonal menu, comprised of egg-nog and peppermint flavors. 
It's contagious — this holiday cheer — and so you decide it's time to pull out your decorations, and start decking the halls of your own home. But what happened last year when it was time to take down the Christmas tree & all accompanying decorations? Chances are, by the time you made it through the wonderful but exhausting holiday season, you didn't spend too much time carefully packing things up. But don't worry: you're not alone in this age-old dilemma.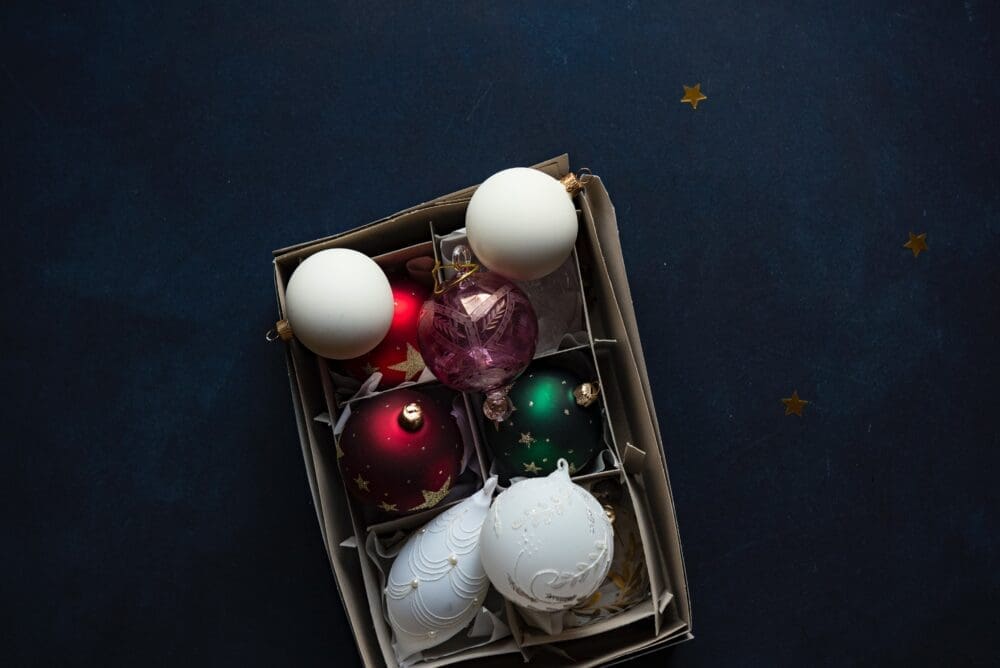 Keep Original Packaging When Possible
One of the easiest ways to safely and securely store your Christmas decorations is by keeping the original packaging. This is especially important for things like artificial Christmas trees and decor that come with a lot of little pieces. Keeping things nice and tidy in its original box will keep it secured during its transport and storage!
If you already threw away that fake Christmas tree box (we know, it's bulky and annoying to keep lying around!) then consider investing in a reusable Christmas tree bag. A good storage bag will include straps to keep a tree's branches down flat and wheels to make it easy to move from place to place. It should also securely fasten via a zipper. These water-resistant bags will keep everything contained nicely, and pack down to a much smaller size when your tree is in use.
> Morningstar Storage Tip: Consider using Saran wrap to neatly secure your artificial tree before it goes into its storage container. No fuss, no muss!
Invest in Special Storage for Fragile Items
One of the most difficult items to safely pack up are those delicate ornaments you decorate your Christmas tree with each year. It might be time to invest in canvas ornament boxes with dividers that will keep your fragile items from rolling around haphazardly during the off-season. You can then organize these ball ornaments and keepsakes by color or by set for easy access come next Christmas!
> Morningstar Storage Tip: If you can't invest in special storage for your fragile items, use leftover plastic cups (think those handy, red solo cups) to keep them safe in storage. Glue these cups to a piece of cardboard so you can easily stack multiple layers on one another in a larger tub or box!
Find Wrapping Paper Organizers to Optimize Wrapping Materials
Wrapping paper, tissue paper, and other present-making supplies always comes in handy during the gift-giving season, but finding a logical storage solution can often be a frustrating endeavor. But did you know that they actually make wrapping paper storage containers? That's right. Now you can organize your supplies in a plastic water-proof container that can easily fit under a bed or in the back of a storage closet.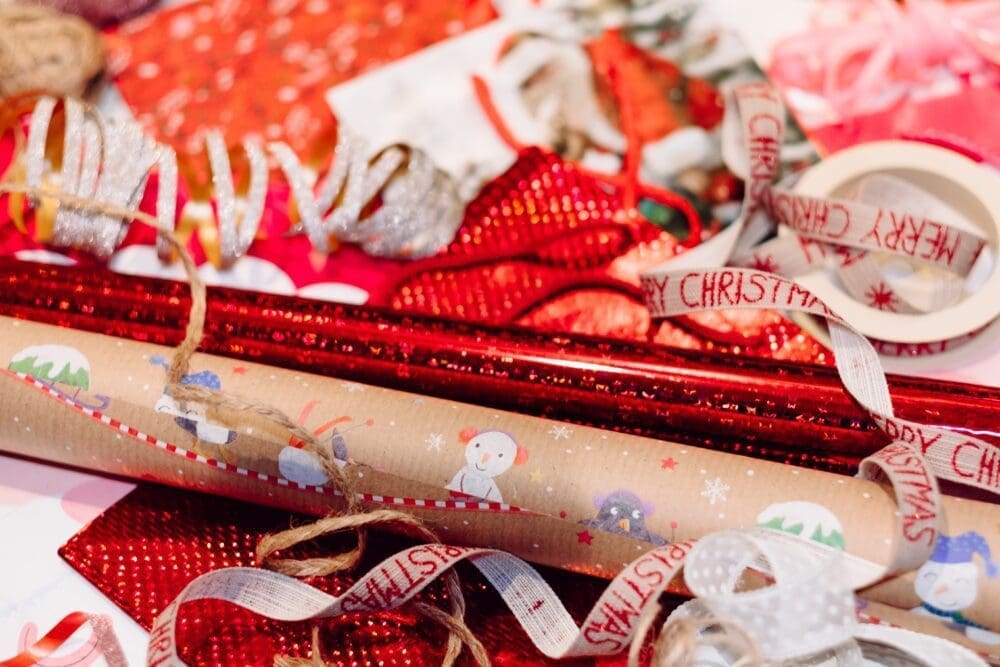 Switch to Tubs & Totes for Weather-Resistant Care
Cardboard boxes are always a good storage solution, but they do have their own drawbacks. For one, they're not waterproof — or even water-resistant, which can take a toll on your items. And secondly, they're not transparent, so finding out what's being stored in them takes time and effort. 
On the other hand, transparent, plastic tubs and totes are a great substitution! They'll keep your items dry and clean, and you'll be able to figure out what is where without needing to do much heavy lifting!
Keep it Straight with Extension Cords Reels to Keep Lights Untangled
One of the easiest ways to force yourself to replace those holiday lights each year is by failing to store them properly. After all, there's no better way to kill the holiday vibes than wrestling with multicolored lights for an hour, just to find out that a bulb isn't working somewhere down the line. 
Use an extension cord reel to wind up those Christmas lights, and secure them in a bag for easy access next year. While this may not be able to prevent a bulb from going out, it will save you time and energy with the decorating process! 
> Morningstar Storage Tip: Don't have one of those fancy extension cord reels? Use a piece of cardboard instead!
Find a Safe & Convenient Storage Location
Unless your home has endless storage options, chances are that finding an out-of-the-way storage location for your holiday items is next to impossible. 
And, technically, all of these items spend more time in storage every year than they do in use — so why not save your home's storage space for items that you'll be reaching for on a regular basis. 
Instead, consider using a convenient self-storage unit to carefully contain all of your holiday memorabilia. It'll be out of sight and out of mind for those ten or eleven months out of the year, leaving you free to optimize your at-home storage in more logical ways! Not sure how to get started with finding the right self-storage option?
At Morningstar Storage, we're able to help you find the perfect unit to store just about anything: from holiday decorations to family heirlooms and beyond! Drop by your nearest location today and see for yourself this added storage space might just be the best gift you can give yourself in the new year!