So you're considering moving to Baltimore, Maryland. But, like any big move, there are a lot of factors to consider when trying to decide what location to call home next. 
Baltimore — also nicknamed Charm City in reference to Baltimore's history and hidden charm — has a population of 575,584 people, making it the largest city in Maryland, and the 31st largest city in the United States. 
There are a variety of reasons so many opt to live in this busy, growing city. For one, it's located just 45 minutes away from Washington D.C., making it a fairly easy commute for those who work there. It has a rich history, exciting nightlife options, and easy access to top-quality education. 
Here are some other important things to consider before you make your big move to the Old Line State.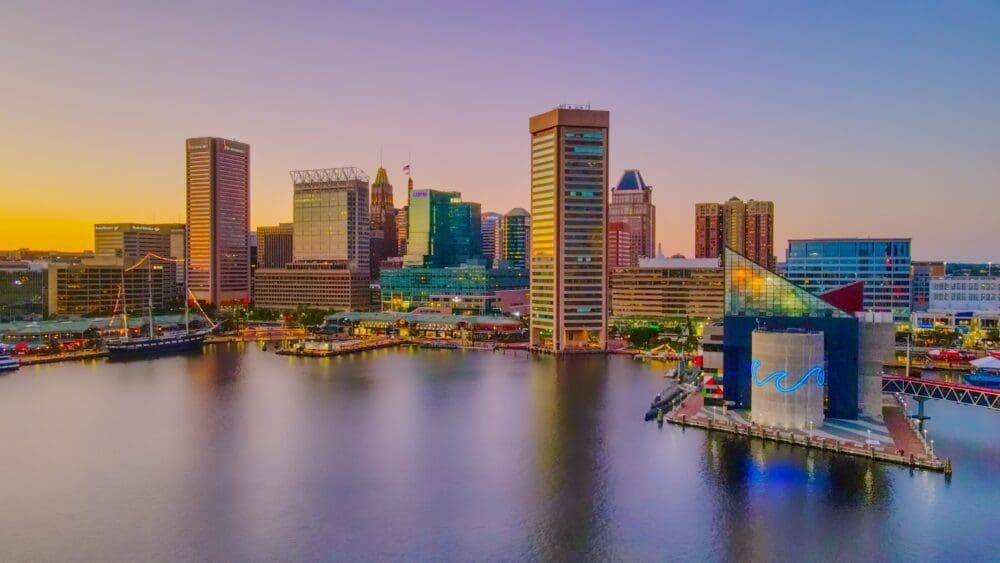 Climate Considerations
If you enjoy experiencing all four seasons, then Baltimore might just be the perfect place for you. During the summer months, you can expect typical hot and humid weather, while winters are cold, snowy, and often windy. But spring and fall are perfectly mild, allowing you to transition from hot to cold with a quick reprieve! Plus, this city gets an average of 213 sunny days each year.
Explore Baltimore's Job Market 
There are nine key industries that currently drive at least 50% of the area's employment:
Transportation, Distribution, and Logistics (TDL)

Construction

Manufacturing

Education

Healthcare

Government

Financial Services

Professional & Business Services

Information Technology (IT)
Top companies such as BD Life Sciences, McCormick, Lockheed Martin, and the Social Security Administration are all headquartered in the city. Top universities' medical systems also employ a large number of Baltimoreans, including Johns Hopkins Hospital & Health System and the University of Maryland Medical System. 
Baltimore is also home to two major bioscience parks: in East Baltimore at Johns Hopkins and at the University of Maryland-Baltimore County. 
The average annual salary is above the national average, at $64,500. Unemployment rates are also lower than the national average, at 7.2%. 
Real Estate & Rental Markets
As it is in most of the United States, the Baltimore real estate market has been steadily increasing in recent years, but the housing market has begun to slow. Inventory levels continue to rise around the city, while demand falls off — which is a good sign for potential buyers to start looking! The median sales price for a home is around $230,500. 
The average rent for an apartment in Baltimore is between $1,349 and $1,635 in 2023. This is significantly cheaper than nearby cities such as Washington D.C., Arlington, Bethesda, and Alexandria. 
Educational Opportunities
If you're looking for a new educational opportunity for your growing family, there are a lot of educational options all around the area, ranging from private to charter to public. The Baltimore public school system alone contains 159 schools and more than 77,856 students! 
But opportunities to learn don't just stop there. Top universities and colleges that are located within the area include:
Johns Hopkins University

Notre Dame of Maryland University

Coppin State University

Loyola University Maryland

Morgan State University

The University of Baltimore

University of Maryland, Baltimore County

Maryland Institute College of Art

Goucher College 
Things to Do Around Town
There are so many things to do all around Baltimore, regardless of your age or stage of life! There truly is something for everyone. 
If you enjoy sports, there are two major teams to support in your very own backyard! Cheer on the Baltimore Orioles (MLB) and the Baltimore Ravens (NFL) during their individual seasons. 
Looking for something to do on a rainy day with the kids? The Baltimore National Aquarium is an inspiring conservation effort for many of the world's aquatic treasures, allowing your whole family to connect with nature in a whole new way.
Stop in at the Port Discovery Children's Museum for some open play, or check out the Maryland Science Center to get hands-on experience learning about the solar system and the human body. 
History buffs, listen up: Check out some of these museums and historical landmarks: 
Great Outdoor Spaces
You might not be expecting it, but Baltimore is chock-full of unexpected open, outdoor spaces — parks, promenades, and waterfront areas — for exploration. Plus, there's no shortage of delicious fare options all around Charm City.
The Inner Harbor is a beautiful, scenic waterfront view with lots of fun stops along the way. Nearby Power Plant Live! has a variety of restaurants, bars, and music venues to choose from. The MECU Pavilion hosts outdoor concerts for big headliners during the summer months. 
Get your running shoes on — here are some must-see parks and trails to explore during the warmer months.
Federal Hill Park –

perfect for challenging sprints with a waterfront view

Canton Waterfront Park –

an eight-acre space to spread out in

Fort McHenry –

.9 mile paved and winding walkway that surrounds the forts and are free to explore

Inner Harbor Promenade –

a seven-mile paved promenade, perfect for a stroll with the whole family

Rash Field –

a downtown stop with sand volleyball courts, a skatepark, a nature park, and a playground

Carroll Park –

a 117-acre stretch of green that also includes baseball fields, basketball courts, a skate park, and a 9-hole golf course

Druid Hill Park –

mile-long loop with jaw-dropping city views

Jones Falls Trail –

a ten-mile hiking and biking trail that transports you out into nature  
Let Morningstar Storage Make You Feel at Home
Moving to a new place, even as amazing as Baltimore, can be an overwhelming task, so let our team here at Morningstar Storage help make the transition that much easier! With two locations right in the heart of Baltimore, our team of dedicated storage experts can help to keep your things safe and secure while you look for a new place to call home. Learn more about all the ways Morningstar Storage can help you get adjusted — find your nearest Morningstar location to get started.