Often called the Brazos Valley, BCS, or Aggieland, the Bryan-College Station area exudes Texas charm, making it the perfect place to nickname the Southern Hospitality Headquarters. It's comprised of equal measures small town living and big city ambitions, all packed into a thriving community that highly values education. 
Bryan-College Station are twin cities in the Brazos Valley region of Texas. It's most famous for being the home of Texas A&M University, but is also well known for providing some of the best public school education in the country. In fact, College Stations places at 22nd for the best cities to raise a family in America because of its fantastic public school system (which falls in at ranking 14th overall in the country), community diversity, and dense suburban feel.
It's a great place to live as a college student, young professional, or growing family because the cost of living is still relatively inexpensive in comparison with the rest of the country. Let's look at some of the other reasons the Brazos Valley continues to see growth each year.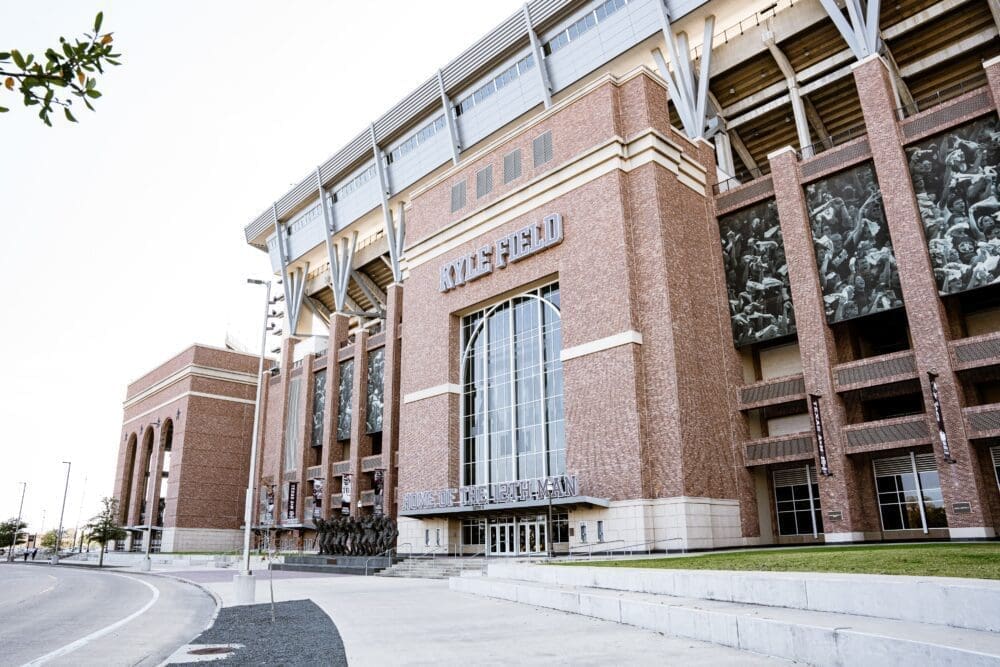 Prime Location & Climate Considerations
In central Texas, these dueling cities are perfectly situated for trips to larger cities nearby, including Houston (just 80 miles), Austin (just 100 miles), San Antonio (170 miles away), and Dallas (180 miles away). 
But what is the weather like in this area? Well, like much of Texas, you can expect the weather to be hot and humid for most of the year… think 90- to 100-degree days during the heat of the summer. But winters offer a reprieve from the heat, and are mild and enjoyable while most of the rest of the country north freezes!
Unlike other areas in Texas, you won't need to worry about constant flooding, snow storms, or icy roads in the Bryan-College Station area. Beyond the steamy summer temperatures, the rest of the year is a mild break from the heat. 
Real Estate & Rental Market Values
Like most of the country, the Brazos Valley real estate market is still high, with low inventory levels and rising home values each month. Currently, the median home value is $256,600 and the median rent is $1,001 for a two-bedroom apartment, with most residents leaning towards the rental market. 
Cost of Living & Job Market
Today, the median household income ranges around $47,456. This biggest employer to this area should come as no shock: it's Texas A&M University, who employs over 17,000 people in the community. 
Other popular job opportunities in the area also revolve around the school district in the area, but in recent years there has also been a lot of job growth in the manufacturing, medical, and tourism industries. The unemployment rate currently stands at around 3.6%, much like the rest of the United States.  
Things to Do Around Town
There's never a lack of things to do when living in the Bryan-College Station area! Whether you prefer indoor or outdoor activities, social or solo adventures, food or fun, there's something for everyone. Here are a few popular "must-do" items to add to your list!
Museums & The Arts
Are you looking for something slightly more educational to do around town? There's a variety of museums and art venues to choose from, too!
Food, Food, Food
The dining scene in the area has grown exponentially in recent years, with lots of locally-owned restaurants sprouting up all across both cities and overtaking those national chains that once reigned king. 
There's something for everyone: upscale, fine-dining venues, casual-but-oh-so-delicious grab-and-go options, and lots of diverse flavors in every neighborhood!
It wouldn't be Texas if there weren't a lot of Mexican and Tex-Mex options all across the board, but let's not forget about that unforgettable barbeque that this state is also known for! Plus, a lot of the cuisine in the area has a twist of Louisiana flavor, with authentic Cajun options available for those who love to indulge. 
Sports Events for All
If you've ever been to this particular state, you know that football flows through the veins over every Texas heart. And since the Bryan-College Station area is also home to the Texas A&M team, it makes sense that their football stadium is packed out every single game day! Plus, did you know that Kyle Field has been home to the Texas A&M Aggie football team since 1905?
If football doesn't happen to be your thing, there's also Olsen Field at Blue Bell Park, a baseball stadium that is home to the Texas A&M baseball program. Regardless of what your team of choice is, heading to larger cities like Dallas, Houston, or Austin is never too big of a trip to take when you're located this close!
Other Family, Friendly Outdoor Activities
Are you an outdoors enthusiast? Here are some must-do things to check off your list:
Plus, check out this Parks Directory to plan your next outdoor adventure for the whole family!
About Morningstar Storage
No matter why you've decided to call the Brazos Valley home, moving to a new town can be an overwhelming situation. Let Morningstar Storage help make your transition that much easier. With more than three locations throughout the Bryan-College Station metro area, our team of dedicated storage experts can help to keep your things safe and secure while you look for a new place to call home. Learn more about all the ways Morningstar Storage can help you get adjusted — find your nearest Morningstar location to get started.