Did you know there are lots of people running businesses out of their Morningstar Storage units? It's an unlikely location, but with heated and cooled units, package acceptance, and a secure space, lots of people are finding success using this as their business location or office! Over the next few months, we're going to highlight some great businesses using a Morningstar Storage unit to inspire you to think outside the box. Read our interview with Tony Evans, Founder and CEO of Fit Storybook, below to learn out he outfitted two 10×30 units to be the gym for his personal training business.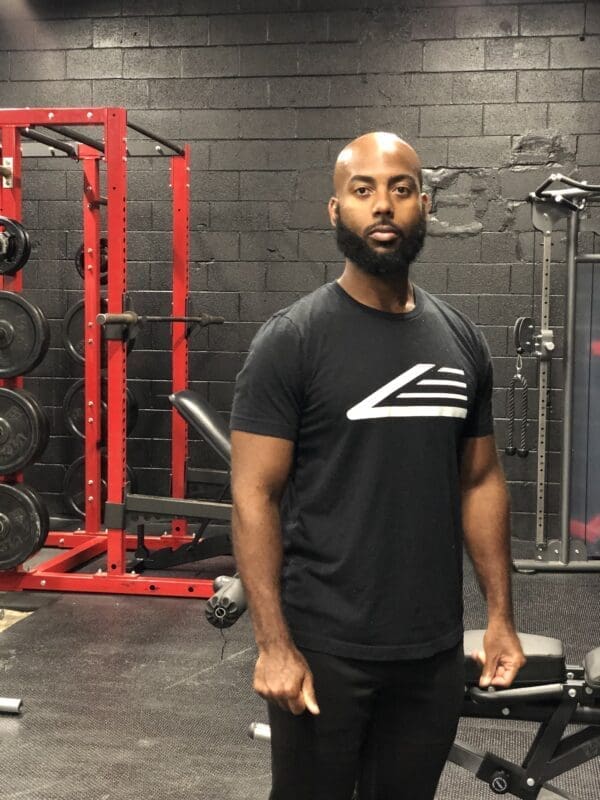 Some Background on Fit Storybook
Q: Tell us about your business
A: Fit Storybook personal training is a fitness company. We provide personal training, small group training, and provide fitness equipment. It's a little bit more than just coming here and training; it is a company that encompasses multiple aspects of fitness.
Before this, I was working in the corporate world in corporate communications and experienced a layoff. I just decided to take advantage of my personal training certification and become a small business owner.
COVID put a damper on the business, being that I opened shop before COVID occurred. I was on a roll, accelerating, growing exponentially, and then it took me back to a break-even point. But finally, a recovery is starting to happen.
Q: Have you always been located at Morningstar Storage of South Blvd?
A: Before I had the capital to open here at Morningstar, I had to go to other gyms to train people and just learn the ropes and ask for permission here and there. As far as an official operation this is my first brick and mortar location, and in December, I'll have been here for two years.
I was given permission to paint the units black to match my branding and overall look, and a lot of people are shocked when they walk by or come in. They're just blown away by how we look.
I think we have a sweet spot targeting businesses because being here is, financially, an advantage. The overhead is low. The expenses are low. Especially for me, because the bank still considers me a start-up, so my spreadsheet doesn't have a lot of liabilities on it, which keeps me looking sharp, even during COVID.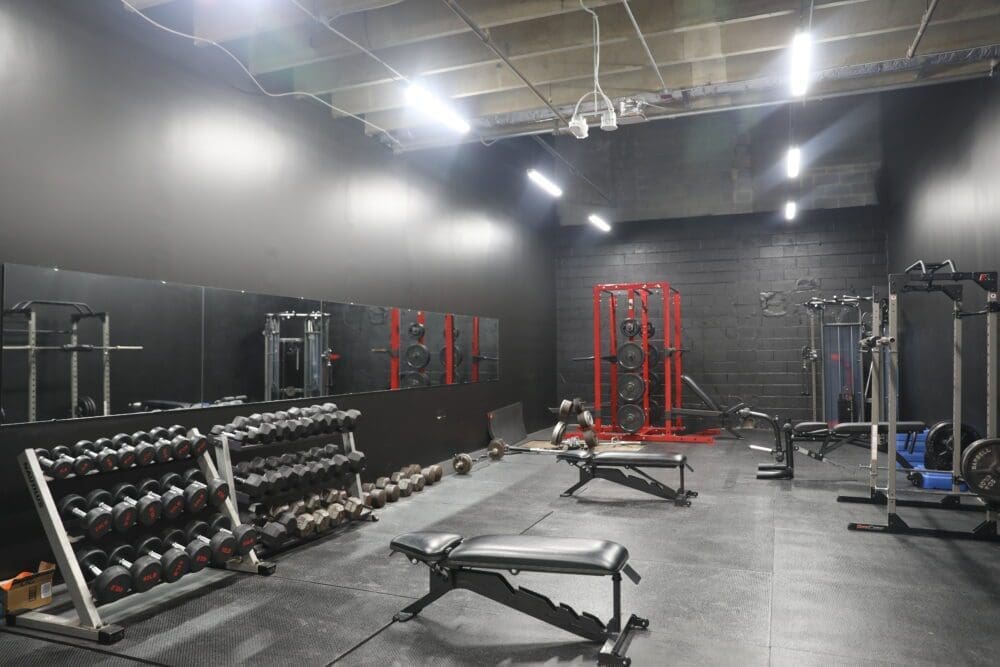 Q: What do you love about what you are doing?
A: I love that I have been able to monetize a hobby, but more so, share with other people what I love. Sure, I get paid but that is secondary. People come in here who work in the corporate world, who have faced mental health challenges and need a safe space. I offer my clients 'hey if you are not feeling well today, we can skip the workout and just talk.'
The 9-5 people are the bedrock and cornerstone of the business. While I do have flexibility and freedom to run my business, it is to be adjusted to my customers' schedules.
I have customers that work in communications, the legal field, or the medical field, for example. I listen to them talk about their jobs and I feel like 'I get it; I remember that.' They're on calls all day and don't have time to eat or drink their water.
Being able to take what I love and monetize it but, also from an emotional side, share with other people to help them feel better. Because it is all about the inside. The outside is going to be a benefit of what you feel on the inside.
How Fit Storybook Maximizes Revenue by Operating Out of a Storage Unit
Q:  How did you end up at Morningstar Storage?
A: In doing market research to find a building to house a fitness business, I called all the Charlotte storage unit companies. Morningstar Storage is the only one that allows businesses to actually operate from a storage unit. And this facility is 24 hours. Sometimes I am here as early as 5am and as late as 9:30pm.
From an on-paper perspective, I knew I would be covered by being here.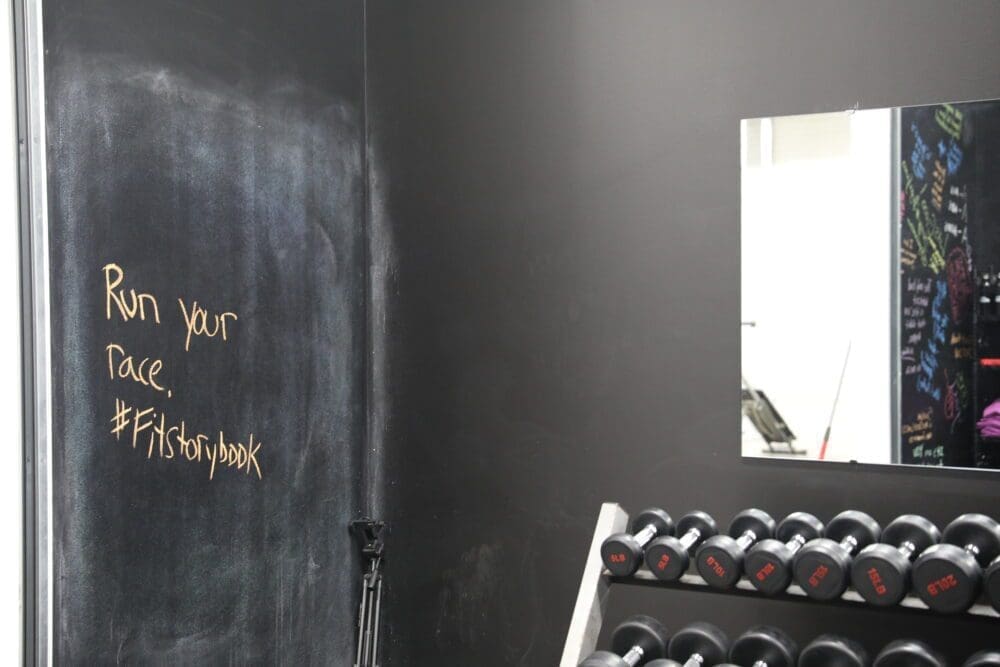 Q: How did you know to look at storage as an option for your brick-and-mortar home?
A: I follow some people on social media who are also trainers working out of storage unit facilities. I said to myself, "Let me see if I could do a storage unit place."
But I knew I didn't want any type of outside drive-up space, I wanted something indoors and climate-controlled. I saw on the website that Morningstar Storage offers all of these and some larger units. I knew I needed something bigger than just 10×15.
It was a lot of research and phone calls, but when we got here, Cheryl showed us this space, and it just worked.
Q: What are the best aspects of this space?
A: 24 hours access, the size of the space and the staff. Cheryl and Fred. If I ever have a question, Cheryl and Fred are so helpful. I just feel completely supported here.
Q: Is there any added ease to working out of storage?
A: Absolutely! The lower overhead than traditional retail space. I think my goal is still to grow and scale to that traditional space, but that requires enhanced insurance and other utility expenses. But if I were to take that step down the road, I would have to be certain I was financially ready. Operating out of a storage unit right now allows me to save and better plan for that next step.
Here, I have my cake and I can eat it too… maybe I should just stay forever!
Growing a Business
Q: What are you doing right now to drive business?
A: I think marketing is what makes or breaks a small business. Right now, I use my Google Business account and I have a lot of hits to my website, as well. I didn't know people were interested in personal training. I was just self-taught on bodybuilding.com or Google workouts. I didn't know if anyone would even want to sign up. I have been blown away that people are actually interested in being my clients. And so, people will Google "personal trainers near me" and that's how they find me.
I use Thumbtack and Instagram. Instagram is how I get 99% of my business. And then I have a Facebook page. For the new year, I am trying to assess if I want to pull away from Thumbtack and just stick with Instagram. Instagram always shows me results.
We trainers are guilty of just giving away everything instead of what our call to action is. Our CTA is to sign up. If we give people 10 videos of a workout, then we've given away the whole product.
Q: Have you had anyone find you via Morningstar?
A: Not as of yet. I have passed out about a dozen business cards to passersby or people in the parking lot.
Q: How many people on staff?
A: I have an independent contractor. He has 5 clients currently, so he is here about ten hours a week. My goal is to continue to grow his client base. And provide a support system for up-and-coming trainers. The good thing about my business is we make 2-3 times more than a typical gym because of their overhead. I just charge a small fee per client, and they take home the rest.
Q: Do you have any advice for other entrepreneurs?
A: I try to make people understand that entrepreneurs only exist because the 9-5 people are the core of our business. The advice I would give is to stay consistent and don't give up. Just to continue to self-educate. Consistency is the biggest thing – that is how you earn respect amongst your peers and clients.
When I look at how far I have come, the growth has been great.
Stay consistent and be as professional as you can. Don't be late.
Enjoy the journey. If I was thinking about what the gym looks like now versus when I first got here, the beginning would've been difficult to get to here. I used to come and just sit and appreciate that I finally had my own business. I would just enjoy the moment. And you just have to remember that it takes a journey to get where you are going. And then, when you get there, it is just building on that because there are even more goals to reach.
Q: Anything else to add?
A: I'm starting to see how when people say there is money out there, you just have to find who your ideal customer is. I still don't know who my ideal customer is. It changes so often. I will take anyone that reaches out to me because it is revenue and helping people
As far as areas of improvement, I am trying to grow a more diverse client base. I mostly work with men right now.
But I love what I do. It is rewarding, but sometimes I forget about it because I am so tired and sleepy all the time.
I try to set the example for my clients. My background is in natural body building, so for example, the meal preps. Enjoy the benefits that food can give you. No joint pain, fewer heart attacks, high energy.
I have trained almost 60 people in the last 2 years. I have had 13 full physical transformations. So that shows you just how challenging mentally working out can be.