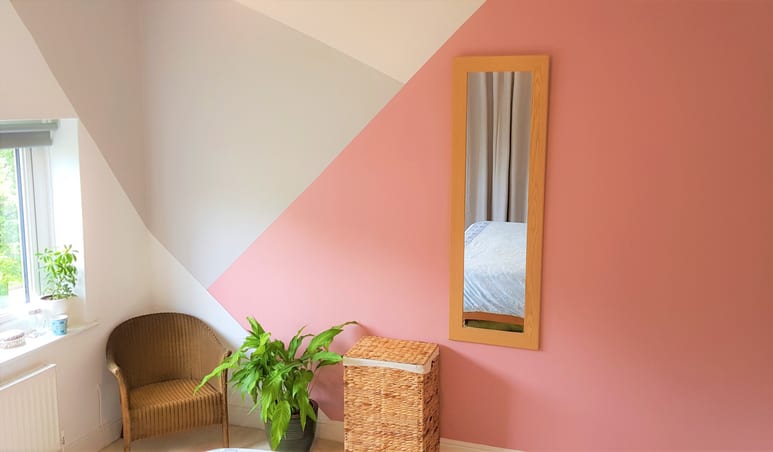 If there's one thing no one likes about winter, it's dreary weather that brings colder temperatures with it. Dreary weather means lots of reading and binge-watching on TV, but it can also give you a much-needed reason to rethink rooms in your home. If you're tired of how your living space looks or feels, why not use this time of year to do something really exciting: watch paint dry.
At Morningstar Storage, we're home decorating (and decluttering) enthusiasts. We've helped our friends and neighbors stay organized during remodels, renovations, and moves. If you're thinking of making some changes to your living space, we've got the tools—and the tips—to help you make it happen.
Repaint a room.
One of the best ways to change a space is to give it a fresh coat of paint. If your walls look like they need a little love or are feeling drab, a much-needed pop of color is the ticket to make things interesting again. Compared to changing carpets, floors, or furniture, paint is one of the most inexpensive options you have! A coat of light paint can make the whole space appear brighter and can really improve your mood, especially in places where the sun comes up later and goes down quicker than we'd all like.
Feeling adventurous? Consider giving one of the walls in your space a bright accent or using tape to create borders and patterns. Experiment with textures like sponge painting to create a different mood. The best part about paint is that you can easily fix mistakes or change things up if you decide you're not in love.
Rearrange the furniture.
You don't need to spend a lot of money on new furniture to change up your seating situation. Just move some things around. If your TV stand sits against a wall and you're not married to a cable outlet, swap it around to the other side of the room. Consider angling your sofas and chairs in different arrangements. If there's a chair that rarely gets used, you can always move it out of the room to open up more floor space. Much like paint, this is an easy change to reverse if you're not set on the final result.
Buy some plants.
Did you know plants are statistically proven to help improve your mood? We know it sounds made up, but it's totally true! In addition to adding greenery to a space, getting some plants and tending to them can help develop a sense of accomplishment. If you're worried about your green thumb, you can always grab some artificial plants, too. Just don't forget to dust them regularly.
Declutter your closets, cabinets, and shelves.
If you're feeling a little overwhelmed by clutter in your home, don't just throw stuff out. Store it! Renting a storage unit to help cut down on clutter in and around your home can be a great mood-booster and give you a good head start on spring cleaning. Not sure where to find storage? We've got just the place. Check out the great amenities offered at your nearest Morningstar Storage facility and contact us today.