Do you love football season, barbeque brisket, and everything being just a little bit bigger, the Big D might be the place for you! Called the Dallas-Fort Worth-Arlington MSA, this metroplex has a lot to offer its residents as each of these areas continues to grow at a steady rate, year after year.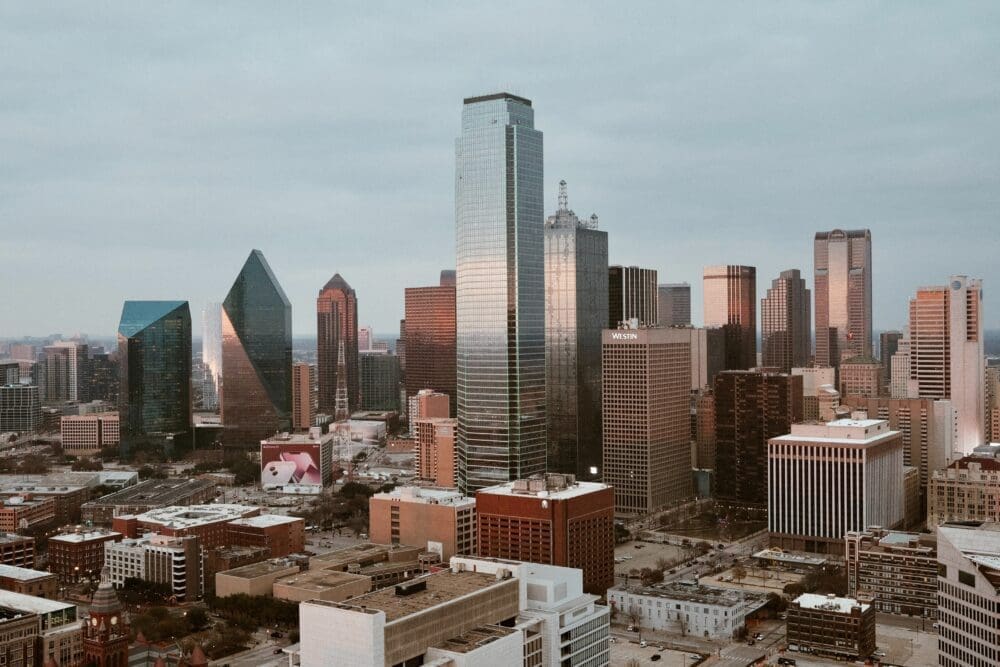 Today, more than 6,488,000 people call the Dallas-Fort Worth area home, trailing behind other fast-growing cities like Chicago, Los Angeles, and New York City. Curious why so many are deciding to call the DFW area home in recent years? Let's find out. 
Climate Considerations
When you think of Texas, you probably think "hot", but in North Texas, you can expect to get a little piece of every season — sometimes all in the same week! But don't get us wrong: Texas still gets hot. During the peak summer months, the average high is above 90 degrees Fahrenheit. It's also not unusual to see the thermometer rise above 100 degrees some days! But winters typically make up for the few months of extreme heat, with perfectly temperate days in the 50s and 60s during the long winter months. That way, the weather in the DFW area encourages both indoor and outdoor activities, year-round. 
Plus, the DFW area is a lot greener than you might originally think! Dallas is home to the largest urban forest in the country, with 42 square miles of green space laid out across the city. 
Job Market + Employment Rates
There are quite a few massive corporations that have been centering their headquarters in the Dallas-Fort Worth area for years. In fact, as of 2021, Dallas-Fort Worth was recorded to be home to 22 Fortune 500 companies, coming in as the fourth-largest concentration of Fortune 500 companies in the US behind New York City, Chicago, and Houston. Big names like Toyota, FedEx, AT&T, and 7-Eleven are just a few who call the DFW area home today. 
Healthcare is also a significant industry in the Dallas area, where both Texas Health Resources, Inc. and Baylor Healthcare System are employing many of the city's residents each year. The Texas Employment Forecast estimates that jobs will continue to increase 3.3% in 2022, adding 435,500 jobs to the state of Texas over the course of the year. 
Housing & Rental Market Outlooks
While the housing market is on the higher end, particularly during this time where the real estate market's inventory levels are historically low, there's still something for everyone — even if you need to look outside the city limits a little to find it. 
According to Zillow, the median home value in the Dallas/Fort Worth area is about $390,505, going up about 30.3% from last year. That could be why  about 44% of households in the area are currently renting — check out Cockrell Hill, Five Mile Creek, and Preston North for affordable rental availability!
Educational Opportunities 
If you're looking for a new educational opportunity for your growing family, there are a lot of schooling options all around the Metroplex, ranging from private to charter to public. In fact, some of Texas' greatest public school districts are located in this area — and there are so many to choose from!
According to the U.S. News & World Report, there are 355 public elementary, middle, and high schools in the area, and 401 private schools. Talk about options! 
But opportunities to learn don't just stop there. There are 18 universities in the area — including the University of Texas at dallas and the University of Dallas to choose from for undergraduate and graduate education!
Arts & Entertainment for All Ages!
Are you a museum, aquarium, or music lover? Be sure to check out any number of these awesome and informational locations:
Museums
Aquariums, Gardens, Amusement Parks & Zoos
Music Venues
Plus, you can easily access the Dallas Area Rapid Transit (DART) transportation system, where the light rail spans almost 700 square miles of area around these cities. The Trinity Railway Express (TRE) also connects the downtown Dallas area with Fort Worth, and stops by the DFW airport for easy access. 
Let's Talk Sports
Regardless of whether it's high school, college, or an NFL team, football reigns supreme in the Big D. The Dallas Cowboys built their brand new headquarters and practice facility in the area. These five-time SuperBowl Champions play at the AT&T Stadium, just west of Dallas. More of a basketball fan? Don't forget about the Dallas Mavericks, the area's famed NBA team. 
In all, the Dallas area has seven professional sports teams, also including the Dallas Renegades (XFL), Dallas Stars (NHL), Dallas Wings (WNBA), Texas Rangers (MLB), and FC Dallas.
Food & Drink – BBQ Anyone?
It's been said that the Dallas food scene is incredibly underrated. After all, there are Michelin Star-awarded chefs that can be found in this area! So what do you try first?
Do you like barbecue – specifically brisket? Then you're going to love what the DFW's BBQ joints have to offer. 
The Texans' love for spice means Texas tacos are another must-have item to try. Whether it's a spicy tex-mex recipe, some mouth-watering chili con queso, or a pecan pie, we promise you won't be anything but stuffed at the end of your meal!
Let Morningstar Storage Help You Make the Move to the DFW Area
No matter why you've decided to call the Dallas or Fort Worth area home, moving to a new town can be an overwhelming situation. Let Morningstar Storage help make your transition that much easier. With more than four locations throughout the Dallas and Fort Worth metro areas, our team of dedicated storage experts can help to keep your things safe and secure while you look for a new place to call home. Learn more about all the ways Morningstar Storage can help you get adjusted — find your nearest Morningstar location to get started.