Depending on who you ask, you might hear the names Bayou City, Space City, or even Clutch City. But to those who reside in Houston, Texas, the main thing they call this beautiful city is "home". 
As the largest city in Texas and the fourth-largest city in the United States, Houston is well known for a variety of things: its thriving manufacturing, healthcare, and aerospace industries, its NBA team, the Houston Rockets, and even its incredible array of tex-mex cuisine. 
Houston was founded in 1836, and was named after former General Sam Houston, the man responsible for winning Texas's independence from Mexico.
The population of Houston is currently around 2.9 million people and continuously growing, with more than 250 people moving to the city each and every day. The main demographic of the city is young, with a median age of thirty-three, and is a diverse city thanks to its international industries and thriving Hispanic community.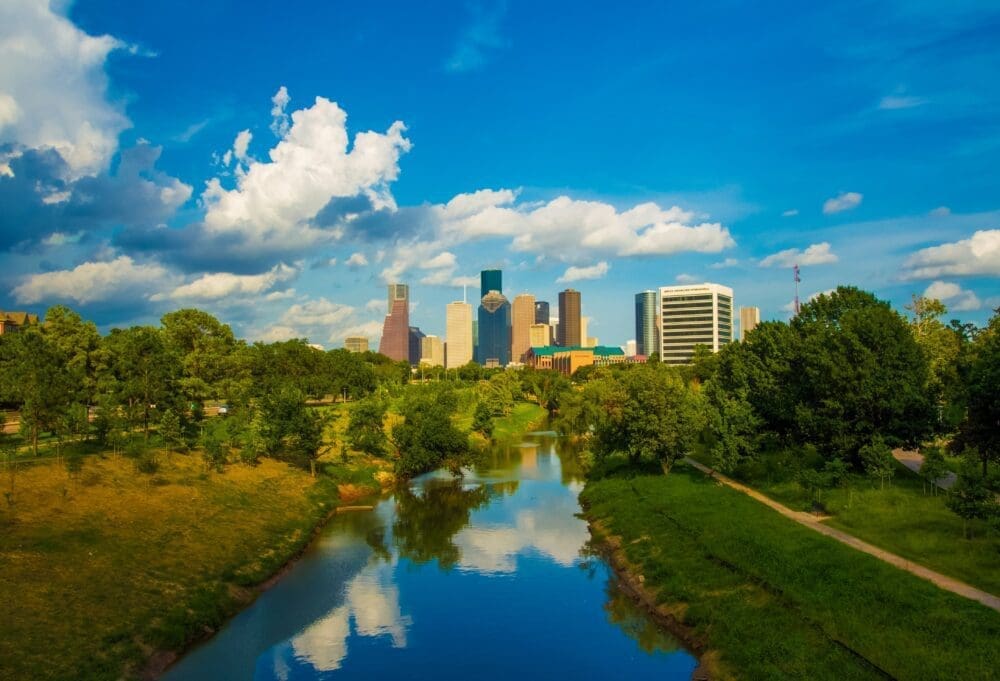 So, Why Do People Move to Houston?
What exactly about this city makes it the perfect place to call home? Here are a few of the many reasons.
Climate and Location
The climate in Houston is classified as humid, subtropical, with tropical influences. On average, it gets about 53 inches of rain per year (whereas the average nationwide is 38 inches per year), and doesn't get a whole lot of snow. It does get all four seasons, although some are more subtle than others.
Houston is situated in a great location, being only about an hour from the Gulf of Mexico and the beaches of Galveston Island, and an hour away from Sam Houston National Forest. So if you're craving a day at the beach or an adventure out in the woods, you're less than an hour away from whatever your heart desires. But everything you and your family could want is conveniently located right within city limits. 
Job Market & Unemployment Rates
Today, Houston is home to the Texas Medical Center, the largest medical city in the world. It's also home to NASA's Johnson Space Center, which serves as a hub for human spaceflight technology and activity. These two pillars of the community, paired with thriving manufacturing and oil and gas industries bring a lot of economic growth and possibilities to Houston's residents. 
Houston is well known for its robust job market, with unemployment rates coming in at just 5.30% in 2022.
Cost of Living & Housing Market
The cost of living in Houston is considered affordable, coming in at just about 4% lower than the national average. This affordable cost of living is reflected in everyday purchases, as well as the average rent price coming in at around $1,234. The median home sales price in Houston is $216,575, which is 2.6% less than national prices. 
Educational Opportunities for All Ages
The Bayou City has a variety of universities and educational opportunities for individuals of all ages and backgrounds. Some of these include:
The University of Houston

Rice University

Texas Southern University

Houston Baptist University

University of St. Thomas

UTHealth Houston

The Art Institute of Houston
And much more. 
Getting Around Town
Like most metropolitan areas, getting around Houston will be easiest via personal vehicle, however, there are some other ways to navigate the city.
The average commute time for Houstonians is 27.2 minutes, which is above the national average — but the city does beat the national average for commuters carpooling, coming in at 9.74%.
The walkability score in Houston comes in at 48, so areas close to the downtown area are fairly walkable, but the further out you go, the more difficult it becomes. The bike score is 37, and the public transit score is currently at 51, both of which can use some improvement. Elected officials are working to increase accommodations for both bikers and public transit commuters in the coming years. 
Sports Enthusiasts Rejoice
Houston is home to six major league teams that any sport enthusiast can enjoy heading to the stadium or field to cheer on: 
MLB Houston Astros 

NFL Houston Texans

NBA Houston Rockets

MLS Houston Dynamo FC

NWSL Houston Dash

MLR Houston SaberCats. 
In fact, Houston is sometimes referred to as "Clutch City" in reference to when the Rockets won two back-to-back NBA Championships in 1994 and 1995. 
Food & Entertainment for All Ages
Like most of Texas, Houston is well known for its tex-mex and cajun fusion-inspired dishes. With more than 10,000 restaurants representing food from more than 70 countries and American regions, Houston offers an ethnically diverse and exciting restaurant scene that continues to grow each and every year. In fact, Houston was even named the "Newest Capital of Great Food" by Food & Wine Magazine. 
But there's so much more to Houston than just the food on your plate. There's a variety of bars and nightlife opportunities scattered throughout the city: an arts, music, and theatre district, and more museums than you know what to do with! Some of these exciting entertainment options include:
The Children's Museum of Houston

Contemporary Arts Museum Houston

Wortham Theater Center

Bayou Music Center

The Museum of Fine Arts, Houston

White Oak Music Hall

The Printing Museum

Alley Theater

The Houston Museum of Natural Science

The Holocaust Museum of Houston

The Health Museum

Main Street Theater

House of Blues Houston

The Art Car Museum

Warehouse Live

Buffalo Soldiers National Museum
No matter your age or stage of life, there's a little something for everyone in the Space City. 
Morningstar Storage Can Help With Your Move to Houston
Now that you've decided to call the Bayou City home, it's time to begin making plans and preparing. Lucky for you, Morningstar Storage can help to make your transition that much simpler! With 9 locations throughout the Houston metro area, our team of dedicated storage experts can help to keep your things safe and secure while you look for a new place to call home. Learn more about all the ways Morningstar Storage can help you get adjusted — find your nearest Morningstar location to get started.