A Comprehensive Moving Guide to OKC
It didn't get the nickname "Big Friendly" for nothing, Oklahoma City (also often abbreviated down to OKC) is just that — a great, friendly place to call home. This major metropolitan city is actually on the list as one of the 14 U.S. cities that have added more than 100,000 new residents over the last decade, with more than 1.4 million people now calling it home. It's expected to reach a whopping 1.52 million people by 2023!
Known for its great cost of living, affordable homes, and four-season weather, Oklahoma City's robust job market and low cost of living all make it an attractive option to call home out in the midwest. Let's take a look at some of the other reasons the Big Friendly continues to grow each and every year.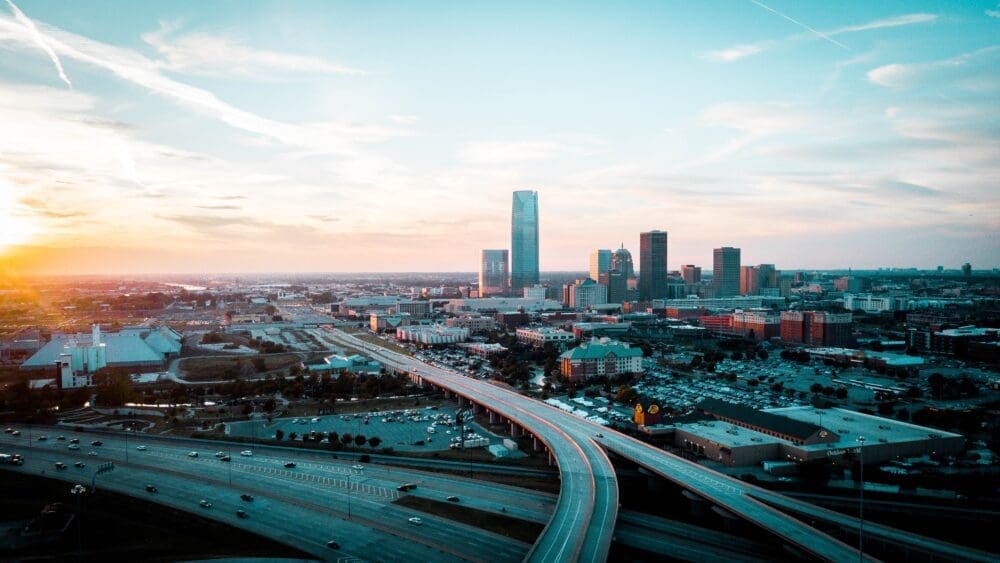 Climate Considerations
It shouldn't come as a shock that summers in OKC are hot and dry, with little to no rain to offer a reprieve during those three to four months. During the fall season, the rain returns — although you can often still expect warmer, temperate days until the middle of October. Winters can be cold and snowy all around Oklahoma City but they're often brief. Overall, you get to experience all four seasons!
Current Job Market 
Oklahoma City's current job market offers a ton of opportunities for those in the energy, aviation, and healthcare industries, and it's also a great place for skilled industrial workers (such as welders, machinists, etc.) to apply their skill sets. 
Some of the largest area employers currently are the Oklahoma state government, University of Oklahoma, Integris Health, and the Mike Monroney Aeronautical Center. 
Are you looking to start your own business? You picked the right place! Oklahoma City offers low costs of doing business, and has a variety of small business resources to help you get your idea off the ground and headed in the right direction!
If all of this wasn't good news enough, the unemployment rate in the OKC area falls below the national average (of 8.7%) at just 6.5%, and the average annual salary comes in at around $50,010. 
Cost of Living & Transportation
Today, Oklahoma City's cost of living is 85.4, lower than the national average (which comes in at an index of 100). 
There are a few different modes of public transportation around OKC, namely a public bus system, a streetcar loop, and a bike-share program, but most Oklahoma City residents find that they will need their own personal vehicle to get around town. But that doesn't necessarily mean that traffic is always backed up — commutes around the area are about five minutes shorter than the national average!
Educational Opportunities
This region is always looking towards the future, to determine how it can make improvements in the quality of life for its residents. One way it has successfully done so in recent years is by continuing to invest in its educational systems.
Oklahoma City as well as a few nearby cities have a variety of colleges and universities readily available. This includes:
Real Estate & Housing Market
Regardless of whether you're a first-time homebuyer or a family looking for a new area to set down roots, Oklahoma City's housing market can help you to do just that. The OKC real estate market is one of the hottest housing markets in the nation right now, with a market that continues to grow faster than builders can build new homes to keep up with demands! 
According to SmartAsset, OKC has the most affordable housing market in the U.S., which shows homeowners and renters paying an average of $916 a month. 
What To Do Around Town
There's so much to do around the OKC area, regardless of your age or stage of life! There's always something for everyone to enjoy. Here are a few fun things to add to your weekend activities list:
Family Fun for Everyone
Being a resident of the OKC area means you'll have access to many local events and festivals, all year long! Are you interested in the arts? Check out the Festival of the Arts, a celebration of music and art of all mediums. Or check out the deadCenter Film Festival and its over 100 film screenings! 
Looking for something more fitness-focused? The OKC Memorial Marathon is a celebration of life, with the Run to Remember bringing together runners and spectators from all across the world in order to honor those who were affected by the 1995 Oklahoma City bombing. 
If your family is interested in spending time together volunteering, there are many local charity organizations to check out!
And you certainly can't miss the Oklahoma State Fair. 
Football Fanatics, Unite
Oklahoma as a whole is known to love its football season! Whether you're an Oklahoma Sooners fan or an Oklahoma State Cowboys fan, there's always something to root for on Saturdays in the fall!
Looking for a different sport to cheer on a local team? There's no shortage here! Check out the Oklahoma City Thunder (NBA) or OKC Energy (FC) teams during their seasons. 
Morningstar Storage Can Help With Your Move to OKC
Now that you've decided to call the Oklahoma City area your home, it's time to begin making plans and preparing. Lucky for you, Morningstar Storage can help to make your transition that much simpler! With eight locations throughout the OKC metro area, our team of dedicated storage experts can help to keep your things safe and secure while you look for a new place to call home.