There are a lot of reasons you might be considering a self-storage unit these days. A lack of space in your home or apartment, a need to temporarily store your items while you're on the move, or to keep your growing small business' inventory organized and out of your home are all valid reasons you're looking for a little extra space right now! 
Regardless of why you've decided to look into a storage solution, we're here to help you better understand if self-storage is going to offer you what you're looking for — and help you weigh the pros and cons before making a decision. Here are a few important factors to consider while you do your research.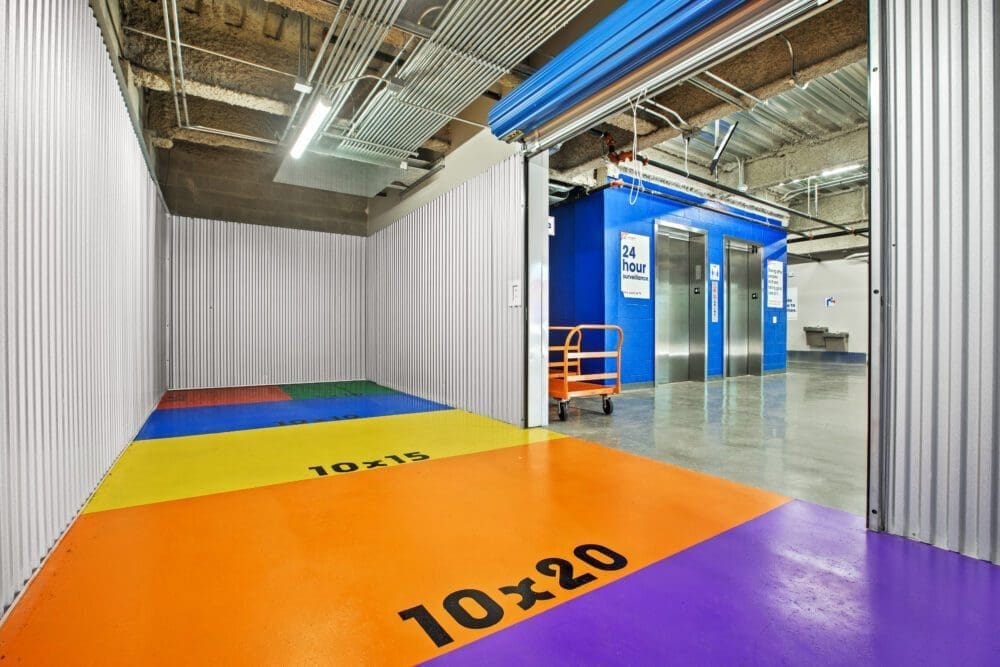 Pro: Around-the-Clock Access
One of the biggest perks of a self-storage unit is the 24/7 access to your unit, so you can grab what you need at any time of the day or night. So whether you're looking for a temporary or long-term solution, accessing your storage space is as easy as can be. Plus, storage staff are always present to help answer any questions you may have, logistical or otherwise!
Morningstar Storage Pro Tip → Not all storage facilities offer secure, 24/7 access to your unit, so if this is important to you, make sure the facility you choose has this offering!
Pro: Safe Storage Solution
Just because you're able to access your storage unit around the clock, it doesn't mean your items aren't secure and safe! Storage providers like Morningstar Storage offer enhanced security features to give you peace of mind in knowing that we're keeping a close eye on your most important items and making sure they are safe and protected at all times. 
Morningstar Storage Pro Tip → Plus, if you're using a climate-controlled unit, your items will also be kept safe from the elements during the extreme heat of the summer or freezing temperatures in the winter!
Pro: Convenient Short-Term or Long-Term Storage Options
Whether you need a place to store a few items for a few weeks, months, or years, self-storage units are typically flexible with their leasing agreements. Some, like Morningstar Storage, offer month-to-month leases with minimal paperwork and no unexpected expenses, you can do what you need to do without all the extra stress.
Pro: Offering A Helping Hand 
While not all storage providers will be this accommodating, Morningstar Storage is proud to offer a variety of helpful solutions as you transition in or out of a unit. This includes the free use of a rental truck for up to four hours, which can be reserved on an as-needed basis. Plus, we've got loads of moving supplies available at all of our locations. Boxes, furniture covers, packing tape, and that oh-so-fun bubble wrap is conveniently nearby when you need it. 
Morningstar Storage Pro Tip → Check out this handy Packing Supplies Checklist to get your moving adventure started off on the right foot!
Con: An Extra Trip
Nothing will ever be quite as convenient as rooting around in your own basement or garage for that long-lost item that you finally have a need for, but for many lacking adequate storage space in their own homes, the build-up of clutter is just too great an issue. 
You might find that moving things out of your home or apartment will mean a separate trip to the storage facility when you finally need something that's currently in storage. With Morningstar's facilities offering 24/7 access to your storage unit, you can make that extra trip when it's most convenient for you.
Con: Not Everything Should Be Put in Self-Storage
Not everything belongs in a storage space, regardless of whether or not it's climate controlled. These things should be obvious, but here are a few things that should NOT be moved into a storage unit:
Flammable, combustible, hazardous or toxic items

Anything that's been stolen or unregistered or uninsured (such as a vehicle)

Weapons or ammunition

Strong-smelling items (this is not recommended as the fragrances can easily transfer to everything else in the unit)

Perishable items

Live plants, animals, or people (duh!)

Wet or moldy items
The good news is: heated and cooled units (like the ones Morningstar Storage offers!) means you can store furniture and electronics without worrying about them getting moldy.
Con: Extra Space Doesn't Equal Organized Space
If you're tempted to think that a self-storage unit is going to be the answer to all of your organizational problems, we challenge you to think again! While there's no doubt that extra space comes in very handy when it comes to getting all of your ducks in a row (or, in this case, totes in a row!) getting the most out of a storage space still takes some planning and special care. 
Be sure to clearly label all of your bins, bags, and boxes so you can clearly identify what's inside of each without having to root through everything. Stack things in an order that makes sense for you and your storage needs, with items you'll need seasonally located further out of reach, and those more regularly-needed things right at the front of the unit. 
Morningstar Storage Pro Tip → When you can, use clear bins to store items so you can see what's inside without needing to open the box up. Use clear packing tape at the top or side of the box or bag and write out all of the things that are stored inside the container at any given time. Be sure to keep these notes updated for optimum use! Check out our blog all about organizing your storage unit for more tips like this!
Meet Morningstar Storage
No matter the reason you're currently considering a storage unit, we here at Morningstar Storage have the perfect solution! As mentioned earlier, our storage facilities offer many of the best amenities and features available on the market today and can help to take the stress out of the moving or organization process entirely. 
From climate-controlled storage units, easily-accessible storage spaces with same floor or elevator-friendly access, to free rental moving trucks, 24/7 unit access, and an experienced team always ready to lend a hand, Morningstar Storage is here to help you get situated in your new home.