Over the past ten years, the population in Birmingham, Alabama, has grown exponentially. Today, the "Magic City" has a population of more than 200,000 people, and more than 1.1 million residents throughout the metropolitan area, making it the most populated city in the state of Alabama.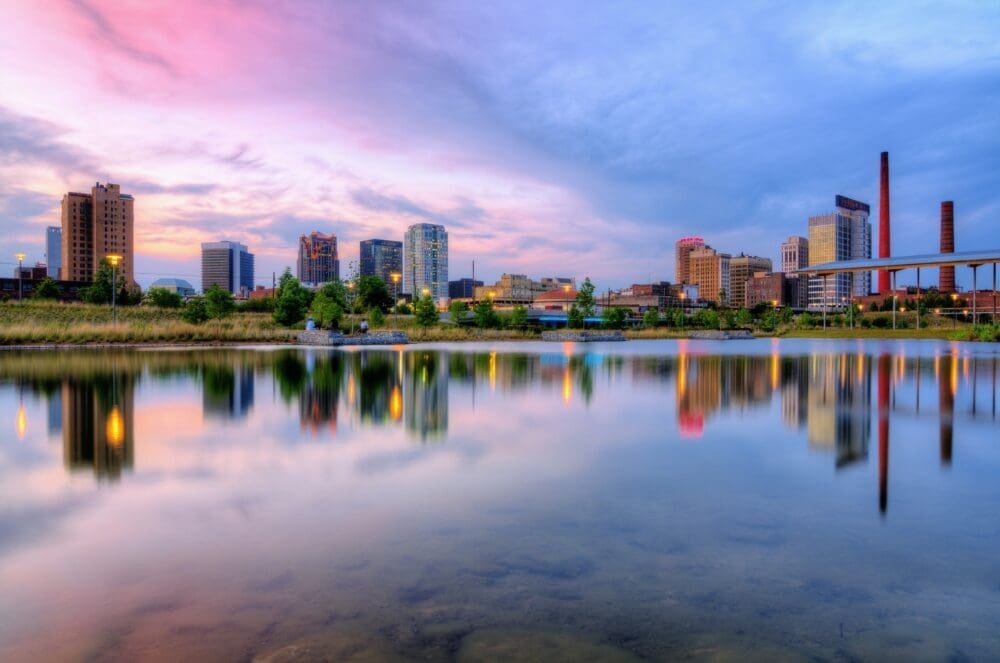 Thanks to the rise of the industrial revolution, Birmingham got its place on the map as it developed a reputation as the iron and steel centre of the south. In fact, it's still the only place in the world where all of the necessary ingredients for making iron — meaning coal, iron ore, and limestone — can all be found within a ten-mile radius.
Even as this particular industry has lessened in demand in recent years, the city has seen rapid growth in recent years thanks to its exploding healthcare, tech, and manufacturing sectors. Let's explore more about why so many families and individuals have decided to make the move way down south, and call Birmingham their home in recent years. 
Climate Considerations
The Magic City is known to get an average of 56 inches of rain per year — but the US average is around 38 inches of rain per year, so it's a little wet for part of the year. But at least it's not blisteringly cold! The city only averages an inch of snow each winter, with an average of 213 sunny days throughout a calendar year. 
Birmingham's Current Job Market 
Birmingham has been ranked as one of the top ten metro areas for growth in a variety of different categories, one of them being its job market. Beyond its unemployment rate coming in at just 1.9% in spring of 2022, the median household incomes have increased by more than 3% year-over-year. 
Back in the day, iron and steel production pushed the area to what it is today, however the area's largest employer in recent years has been the healthcare industry. The University of Alabama at Birmingham's UAB Hospital is known as an international leader in healthcare, and one of the top transplant centers in the world. 
Other large employers in the area include the United States government, the University of Alabama at Birmingham, Alabama Power Company, and American Cast Iron Pipe Co., Inc. 
There are also a variety of Fortune 500 companies, as well as large banks and insurance organizations, who are headquartered in Birmingham. 
Real Estate & Rental Markets
As of 2021, Birmingham was listed among the nation's best markets for buying and owning long-term rental properties. This is due in part to the city's home affordability (the cost of living in the area is 2% below the national average) and its overall stability as a healthy housing market. Plus, home values have increased by nearly 88% over the last five years, and continue to rise. 
Still, home values have increased over the last year, and median listing prices are around $170,000 on average. 
The rental market is also prime in the Magic City, despite rent prices on the rise. The median rent for a 3-bedroom home in the area is $1,245 per month. In the end, this rental market is all still relatively affordable thanks to the city's overall cost of living below the national average. 
Educational Opportunities
Birmingham is a wonderful place for families and young adults alike, particularly because of the educational opportunities available for all. In fact, the Mountain Brook School System has been ranked as one of the best public schools in the state of Alabama. 
And top-rated universities like the University of Alabama at Birmingham, Birmingham-Southern College, and Herzing University at Birmingham all call the Birmingham area home. 
Things to Do Around Town
There's never a dull moment when you live or visit the Birmingham area. Here are just a few of the must-do activities in the area:
Food & Drink Options 
You're in the south now, which means you can get ready to enjoy some finger-lickin' specialties like chicken and waffles, stone ground baked grits, and Alabama barbeque. 
But there's also a plethora of iconic dishes you need to try — and places you need to see for yourself! 
The Irondale Cafe inspired author and actress Fannie Flagg's successful novel and eventual movie, Fried Green Tomatoes. 
Here's a great list of other "must-taste" options you'll only find in the Magic City!
Great Outdoor Spaces
Did you know that Birmingham is a national leader in urban green spaces? There are thousands of acres of wooded areas, prime for biking and hiking and located within minutes of the downtown area. In fact, Oak Mountain State Park, a 1200-acre public space, is almost 40% larger than New York City's Central Park. 
Sports for All Ages
While the city of Birmingham doesn't have any professional sport franchises yet, they are home to the Birmingham Barons, the AA minor league team for the Chicago White Sox. The University of Alabama also has a popular basketball team, as does Samford University. 
This city is also home to the nation's oldest baseball park, Rickwood Field, where some of the greatest players in history set foot on this field. Think Jackie Robinson, Ty Cobb, Willie Mays, Babe Ruth, and more. 
Last, but certainly not least, motorsports enthusiasts enjoy Barber Motorsports Park, where tons of exciting events take place all year round. 
Morningstar Storage is Here for You
No matter why you've decided to call the Magic City home, moving to a new town can be an overwhelming situation. Let Morningstar Storage help make your transition that much easier. With more than three locations throughout the Birmingham area, our team of dedicated storage experts can help to keep your things safe and secure while you look for a new place to call home. Learn more about all the ways Morningstar Storage can help you get adjusted — find your nearest Morningstar location to get started.