When it comes to big life changes — whether that be adding a new family member, heading off to college or across the country to take on a new job, or moving to a new place — there are enough overwhelming logistics to consider. That's why many opt to store their larger items in a secure location for a temporary time. It's just one less thing to have to worry about!
But moving the largest items you own into a self-storage unit for the very first time can come with its own set of questions. Things like, "How do I prepare the furniture to go into storage?" and "What's the best way to organize the unit so I can easily access things if I need them before I move out?" can often come to mind. That's why we've prepared an easy-to-follow checklist of top tips to properly storing your furniture for the best results!
In the end, these are the best practices for keeping your stored furniture clean, safe, and secure — but remember to still check on them regularly. So, here are some important tips you can use to properly store your furniture in your self-storage space to maintain its overall appearance and ensure easy access.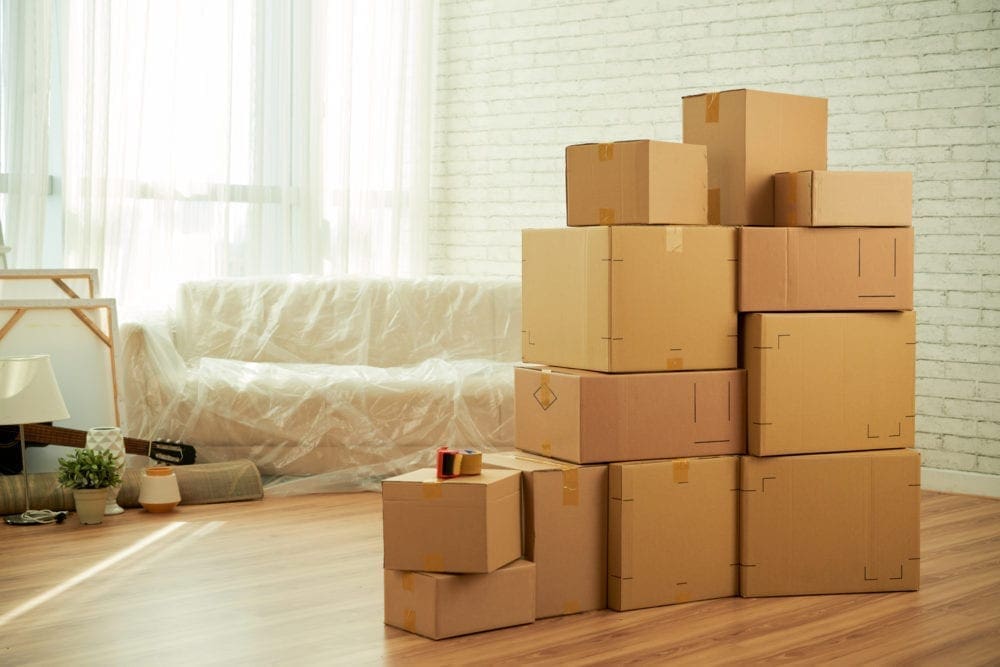 Rent a Climate-Controlled Unit
In order to keep your furniture in pristine condition while in storage, it's best to find a facility that is climate controlled. There are so many benefits to utilizing a climate-controlled storage unit, particularly protection against humidity. Moisture in the air often leads to mold down the road, so using a climate-controlled unit will provide a consistent and stable environment for your beloved furniture to wait for your return. 
Clean Everything Thoroughly
Start things off on the right foot by properly cleaning each piece of furniture before you put it into the storage space. Leftover food crumbs can attract unwanted guests and stains will become permanent if they're left untreated. 
Also, be sure to use the right cleaning materials on the furniture. Here are some examples of proper cleaning methods depending on the fabric or material your furniture is made of:
Upholstered Furniture
Cloth and upholstered furniture should have all cushions removed and properly vacuumed. You can also use a steam cleaner or fabric cleaner to get stains or smells out of the fabric before it heads to the storage unit.
Wood Furniture
Dust all wooden furniture with a wood polish and soft cloth to protect the wood finish.
Leather Furniture
Use a leather cleaner and conditioner and wipe down the leather, allowing it to completely dry before it heads to storage.
Glass Furniture
You don't want to dry clean glass, so be sure to apply a glass cleaner like Windex to the glass portion of the furniture and wipe dry with a soft cloth or rag.
Metal Furniture
Avoid using abrasive scrubbers or cleaners on metal furniture, as this can scratch the piece's finish. Instead, use a soft cloth or sponge using water and a mild soap to clean. Wipe the piece dry before storing.
Take Things Apart
If pieces of furniture can be taken apart, do so before it gets to the storage unit. This will make it much easier to move from location to location, and can save smaller, more fragile pieces such as the legs of a chair from potential damage during the move. 
Morningstar Storage Pro Tip → Be sure to put all disassembled pieces, screws, etc. in a container or bad and attach it to the piece of furniture or properly mark and store nearby for easy access when you need to put the furniture back together.
Use Extra Protection on Delicate Items
In some cases, you may want to wrap your furniture before placing it in storage, regardless of whether or not the unit is going to be climate-controlled. However, if you plan to use plastic to wrap anything, make sure it is sealed and airtight to avoid trapping moisture inside of the plastic layers. 
If you're concerned about the pieces being damaged during the move or while sitting in storage, play it safe and use packing materials to properly wrap up the delicate features of your furniture. This is particularly important for easy-to-stain or fragile pieces like a mattress or wooden legs of a coffee table. 
Similarly, you'll want to carefully bubble-wrap all fragile items that could be damaged in the move or while in store. Glass furniture should be carefully bubble-wrapped or wrapped in blankets and sheets. Metal pieces that could be scratched should also be protected before entering the storage unit. 
Use Pallets to Protect Furniture
Unfortunately, even in the best climate-controlled storage unit, the floor can still contain moisture that could warp the legs of your furniture or lead to mold damage down the road. 
Try to prevent this possibility from happening by laying down wooden pallets and covering these with a tarp. Then you can safely store your furniture atop this tarp, which will further prevent any moisture from making its way up and into your furniture. 
Never Overfill the Unit
It's also important to select the right size storage unit, particularly because you really don't want to overstuff the space and not be able to access all of your items at any given time. Airflow is also so important for preventing moisture from being trapped in between layers of your things! Don't forget to avoid piling things on top of furniture that could potentially damage or stain it in some way.
Morningstar Storage Pro Tip → Not sure what size storage unit you'll need? Morningstar Storage has created this simple Storage Unit Size Guide to help you find the perfect fit!
Let Morningstar Take Care of Your Storage Needs
Morningstar Storage facilities offer many of the best amenities and features available on the market today and can help to take the stress out of the moving or organization process entirely. 
From climate-controlled storage units, easily-accessible storage spaces with same floor or elevator-friendly access, to free rental moving trucks, 24/7 unit access, and an experienced team always ready to lend a hand, Morningstar Storage is here to help you get situated in your new home.