Anyone who has ever participated in the moving process knows that it's a complicated endeavor. Not only are you expected to pack up your life within a few cardboard boxes, but then you have to figure out the logistics of moving said belongings from Point A to Point B! From packing boxes all the way through packing up your moving truck, there's a lot that needs to be done within a very limited timeframe.  
A question that often comes up during the moving process is, "What size moving truck will I need in order to properly fit all of my belongings?"
Unfortunately, the answer isn't quite so cut and dry. It comes down to a number of things that must be considered in order to find the right size moving truck to fit your needs. Here's how you can calculate the type and size moving truck you'll need for your next big move.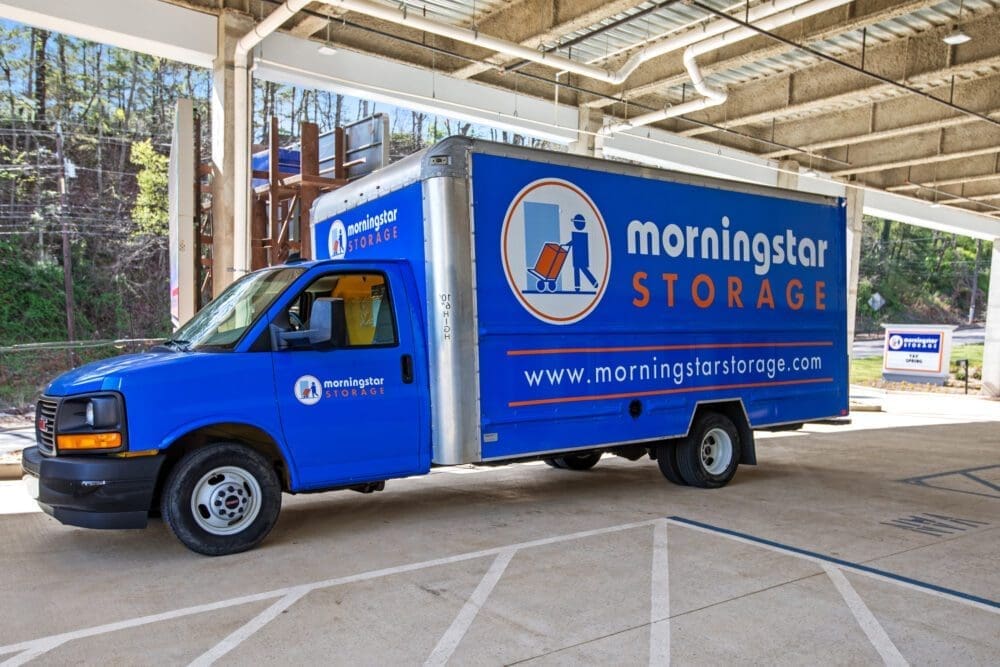 Cost Considerations
Moving can be an expensive process, which is why it's important to do your research about cost-effective options at every turn. The most cost-effective way to physically move your things will be self-moving options, where you rent the truck and have a few friends or family members help assist with the packing and unpacking of the truck. 
Moving truck pricing can fluctuate depending on the mileage you're planning to put on the vehicle between move locations, the places you plan to pick up and drop off the truck (this is especially true for cross-country moves), and whether you'll need extra moving items like furniture paddings, dollies, etc. 
Still, the base price will be primarily based on what size truck you're renting, so you want to make sure you're selecting the right sized truck so all of your items fit well within the vehicle and you don't break the bank!
>> Morningstar Storage Tip: Most Morningstar Storage locations offer a moving truck. Your storage unit rental comes with a free 4-hour rental of the truck on the day of your move-in. Be sure to factor this into your cost when planning your move!
Distance Between Destinations
As we mentioned earlier, you're also going to want to calculate just how far you need to go to move from your former residence to your new home. If this is an across-town type of move, you may be able to save some money by taking multiple trips with a smaller vehicle. However, be sure to calculate that carefully to make sure it makes sense mileage-wise.
If this is a longer, cross-country move, selecting the right size vehicle is all the more important as failing to properly size things up might mean leaving behind pieces of furniture in the end. 
How Big is Your Home?
The most obvious way to calculate how large of a vehicle you're going to need for this move is based on the size of your current home. Ask yourself the following:
How many rooms do you have that are full of furniture? 

Do you have a garage or shed with larger machinery (think lawnmowers and tools) that also needs to be included?

How many boxes do you estimate you will have packed per room?
Once you have a clear inventory of what will be making the move, you can book and pick up your moving truck!
Types of Trucks
There are a wide variety of moving trucks that you can pick from when the time comes. Which one do you think will work best for your needs?
Pickup Truck:

this vehicle is a great option for local, light loads with minimal furniture included. A pickup truck works well for college dormitory moves, etc.
Trailers:

this option works well for those who have vehicles that can pull the load weight of the trailer once it's full. Great for shorter distance moves with minimal amounts of furniture to consider.
Cargo Van:

a cargo van is also a suitable option for smaller moves, where mattresses and other large, bulky items aren't going to cause an issue with room. 
10 – 12 Foot Box Trucks:

this smaller size box truck is typically recommended for one to two-bedroom apartment-type moves.
15, 16, or 17 Foot Box Trucks:

this medium-sized option is great for three or more bedroom apartments or smaller homes. The exact size of the truck will depend on the brand you decide to rent with.
20 Foot Box Truck:

this larger box truck is perfect for medium-to-large sized family homes with multiple levels of furniture, boxes, etc. 
26 Foot Box Truck:

this is typically the largest rental moving truck size available on the market, and works well for 3-5 bedroom homes.
Packing the Truck Like a Pro
Now that you've decided on the perfectly sized moving truck to fit your needs, it's time to get to the loading process! It's really important to properly load your furniture, boxes, and other items in the right order to avoid throwing the truck off balance, damaging your items, as well as maximizing the space you do have. 
Load the largest and heaviest items into the truck first. You want all mattresses, bed frames, tables, chairs, refrigerators, washers, dryers, couches, sectionals, bookcases, or other large pieces of furniture to sit right behind the driver's cab of the truck. This will help to keep your truck balanced on the road, and prevent these bigger items from falling and crushing boxes and other, more delicate items. 
Working from the front of the truck bed to the back, load things in a balanced, logical way. Make sure boxes won't shift during the drive by typing them down when needed. Load the lightest items last into the truck, and be sure to keep any moving day essentials in the cab of the truck for easy access!
When in Doubt, Morningstar Can Help
Sometimes during the moving process, we come to the realization that not everything you own needs to head to your new home. That's where Morningstar Storage can help. Our storage facilities provide some of the best amenities and features available to take the stress out of the moving process. From heated and cooled storage units, easily-accessible storage spaces with same floor or elevator-friendly access, to free rental moving trucks, 24/7 unit access, and an experienced team always ready to lend a hand, Morningstar Storage is here when you need us. 
Use this easy Storage Sizing Guide to help you find the right fit for your needs.