Whether you're looking to join the thriving workforce in the second-largest banking city in the United States, hoping to relocate to a centralized city right in between the mountains and the coastline or want to head Uptown on Sundays to cheer on the Panthers at Bank of America Stadium, Charlotte, North Carolina, is the perfect place to call home. 
As the third fastest-growing state in the country, North Carolina has seen significant population growth over the last two years. 
Between its incredible mountain views, picturesque coastlines, and temperate climate, there are so many reasons that more and more individuals and families are making the move to the Tar Heel State. But beyond its impeccable geographic location, the real draw for young professionals, growing families, and retirees alike is the careful balance between work and play. 
As North Carolina's largest city, one thing you'll immediately notice about Charlotte is its cleanliness and infrastructure growth. It's nicknamed the "Queen City" after its namesake, Queen Charlotte of Mecklenburg-Strelitz, who was the queen of Great Britain when the town was first founded.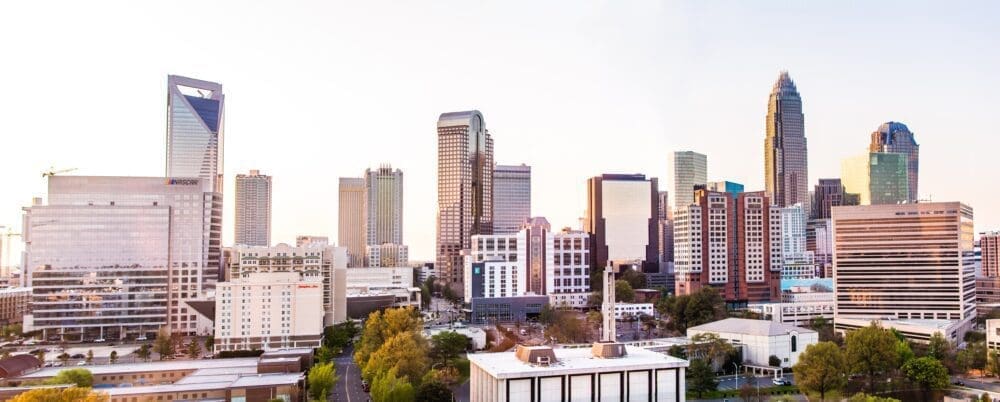 As one of the US's largest banking and fintech hubs, Charlotte draws a lot of young professionals and families alike. The city is also home to all the sports teams: Carolina Panthers, Charlotte Hornets, Charlotte Checkers, Charlotte Football Club, Charlotte Independence teams and NASCAR all call Charlotte home. 
The Pimento Cheese Capital of the World also has a ton of food, nightlife, music, and arts-focused events to choose from. Home to more than thirteen colleges throughout the Charlotte-Mecklenburg area, many come for a four-year education and stay beyond graduation!
Around the Queen City: Where Are You Going to Live?
We've already established that Charlotte is a phenomenal place to call home — but what neighborhood should you consider calling home? 
Best Neighborhoods for the Night Life & Food Scene
There's nothing better than being able to walk down the street to your favorite coffee shop or bar. From biscuits to barbeque, here are some great neighborhood options for those who want convenient access to an eclectic mix of restaurants, shops, and nightlife activities. 
Best Neighborhoods for Young Professionals 
For those young couples and single individuals who aren't quite ready for the suburbs and would prefer a neighborhood with options for leisure activities, here are some trendy spots to consider. 
The true heart of the city, this area is an ever-evolving area, with more buildings joining Charlotte's breathtaking skyline every day. Many who first come to Charlotte with a role located in Uptown will opt for an apartment or condo in the First, Second, or Third Wards. The Fourth Ward also has a variety of beautiful Victorian and historical homes to choose from, too. You'll not only have easy access to restaurants and businesses around town, but also a variety of museums, theaters, and markets right outside your door!

NorthEnd

NorthEnd continues to grow in popularity each year, as more and more people move to the Charlotte area with one goal in mind: a backyard for their dog. This area of Charlotte is tucked right outside of Uptown, but is slightly separated from the nearby neighborhoods, making it impossible to fully navigate without the use of a car. However, with Camp NorthEnd, a mixed-use arts and entertainment campus, welcoming new food, beverage, and retail partners each year, the whole area is experiencing a new wave of revitalization. Plus, it's not too far of a ride from the NC Music Factory Blvd, Charlotte's premiere hub for music, entertainment, and nightlife.   

Dilworth

Known around town as Charlotte's first streetcar district, this neighborhood has some incredible homes and apartments, restaurants, and local businesses all within walking or biking distance. Located just beyond Uptown and South End, Dilworth is a quieter, more sophisticated solution for people who are looking for some opportunities to socialize without worrying about needing to file noise complaints on the neighbors every weekend!
Best Neighborhoods for Families
You've settled down and started a family, so it makes sense that your home and neighborhood choices will revolve around finding a place where others are in a similar stage of life. Here are some family-oriented choices to consider – without needing to sacrifice the potential for fun!
SouthPark

If you're looking to settle down in suburbia, SouthPark is the place for you. Although it's geographically far from the center of Charlotte, this area of town has everything you'd ever need within a five mile radius. It's also home to the SouthPark Mall, North Carolina's largest mall, as well as truly upscale living, dining, and shopping opportunities. Be prepared to pay a pretty penny to live on this side of town!

Myers Park

The first thing you'll notice in Myers Park is the houses. The second thing you'll notice are all the trees. This gorgeous neighborhood is as picturesque as it gets, with mansion-lined streets dotted with massive tree canopies for some privacy. There's plenty of local restaurants, wineries, shops, and bars to frequent as well! You'll definitely need your car to get around town though. 

Elizabeth

If you love the feel of a quiet, suburban neighborhood but aren't quite ready to commit to a mortgage payment, Elizabeth has a lot of options for families. Between rental single and multi-family homes, condos, and apartment buildings, there's accommodations for every stage of life. This historic area is near Uptown, Plaza Midwood, and the massive Carolinas HealthCare System and Hospital. If you're lucky, you might even be able to catch the vintage trolley car as it makes its way to the center of the city!
About Morningstar Storage
No matter why you've decided to call the Queen City home, moving to a new town can be an overwhelming situation. Let Morningstar Storage help make your transition that much easier. With more than 17 locations throughout the Charlotte metro area, our team of dedicated storage experts can help to keep your things safe and secure while you look for a new place to call home. Learn more about all the ways Morningstar Storage can help you get adjusted — find your nearest Morningstar location to get started.