Small businesses are the backbone of our country. In fact, Forbes reported in 2022 that 99.9% of all businesses across the United States are small businesses.
But just because there are more than 33.2 million small businesses across America, it doesn't mean that running one is so simple. In fact, being a small business owner is one of the most difficult career choices one can make. It requires learning how to be a CEO, CFO, HR director, salesperson, and marketing genius. It requires logging lots of extra hours, many spent after the sun sets or rises. And it requires patience and flexibility in every aspect of these words. 
That's where self-storage comes into play. By offering business owners a cost-effective, flexible solution, storage facilities are the perfect option to boost a small business' impact in their industry. Here's how.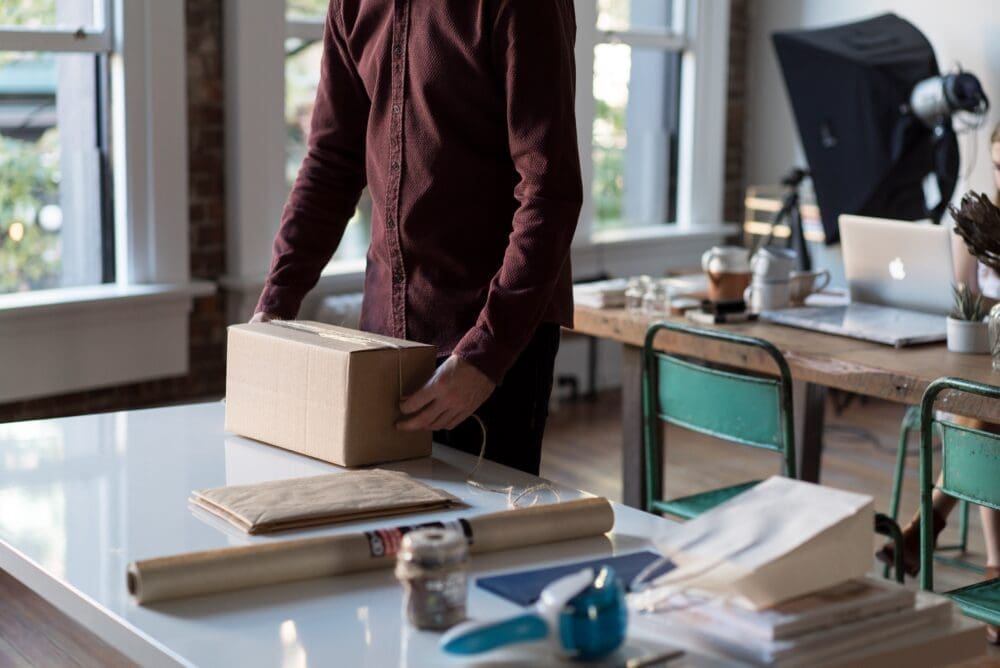 → Morningstar Storage Pro Tip: Not sure when it's the right time to use business storage? Here's a quick guide to help you determine if it's the right time to make the leap. 
1. Expand Your Storefront 
Regardless of the current size or type of small business you're running, there's always a need for more space. Whether you have a physical location where your clients or customers can stop by to browse your goods or purchase your services, a self-storage unit can free up valuable space that allows you to expand your existing storefront. 
This is especially true for businesses with only an online storefront presence. For ecommerce businesses, a storage unit is one of the most beneficial options to store inventory as it waits to be shipped off. These units can act as their online business' command center, keeping all items neatly organized and prepared for shipping. Plus, you may be able to partner with a delivery company, which can in turn help the door-to-door timeline significantly. After all, who doesn't want to be able to offer reasonable (or free!) same-day or next-day shipping to customers? It's a great way to show up the other competitors in your space. 
2. Reduce Clutter 
Is there anything worse than trying to get work done in a cluttered, over-full space? Chances are, if there's a mess in your meeting room, it's going to be hard to concentrate on the task at hand. Self-storage is a great solution for organizing both your main office area and your "backroom" where you store those out-of-sight items until you absolutely need them. 
Here are some practical ways a storage space can help you to make better use of your office or store's current location:
Move overflow inventory to a safe off-site location to restock from as needed. 

Store important business or tax documents and other confidential files in a safe location that isn't directly associated with your business. 

Put away janitorial or non-hazardous cleaning supplies for when you need them. 

Carefully store expensive and delicate items such as photography equipment, extra furniture, computers, and so much more. 

Help house your business while you complete a renovation project or a major move. 
3. Cost-Effective
Self-storage is a very cost-effective solution to keeping things neat and organized within your business. After all, it's better than needing to rent an entire warehouse or new, larger office space, just because you don't have enough room to breathe! 
Plus, it offers 24/7 access to you and your team, all while providing around-the-clock security for your small business at no extra cost. And some self-storage companies like Morningstar Storage even offer business delivery services, where their dedicated team will accept business packages and deliver them safely to your storage unit for free. 
4. Add Flexibility Over Time
Small business owners understand how important it is to be flexible in every aspect of the word. After all, running a small business requires you to wear a lot of hats and work a lot of hours. But that also means you're able to change directions in record time. For some, that means deciding to appear at a local pop-up market or trade show with little to no time to prepare. 
By leveraging a climate-controlled storage unit, you can easily store those fragile and bulky items you only need once in a while for an upcoming trade show or pop-up market — all without taking up valuable space elsewhere.
For contractors, landscapers, and other service-based companies, a storage unit is essential to storing larger tools and items that need to be accessed by multiple people throughout the week. Efficiency is the name of the game during those busy seasons!
Plus, do you need to upgrade your storage space because your business is growing so quickly? That's no problem. Moving to a larger unit is as easy as can be – and often means moving all of your items just a few doors down from where they were originally being stored.
5. Increase Your Business' Capabilities
In the end, it's easy to see that more space equals more opportunities for your potential business growth. By freeing up essential workspace (either in your home or a leased office), you can take on new clients, increase inventory levels, hire new team members, and experience new levels of financial growth. 
Thanks to the help of a conveniently located self-storage unit, your small business is ready to expand its reach in your local community and beyond. 
Leverage Morningstar Storage to Expand Your Small Business
From specialized storage unit customizations like electrical outlets and climate control to creating office space for you, Morningstar Storage offers you the flexibility you need to help your business thrive. 
Whether you need a month-to-month dedicated space or a locked-in, 12-month heated and cooled unit for an optimum working environment, Morningstar Storage has the perfect solution for you. 
Plus, our 24-hour access, enhanced security features, and ability for our staff to accept business deliveries and place them in your unit for you will offer the peace of mind necessary to operate the other parts of your small business successfully! Contact us today to schedule a tour of your businesses' next space.