Life Transitions Come in All Shapes and Sizes
There are so many periods in life where things — circumstances — can change, leaving you and your loved ones in a new stage of life. These situations can be overwhelming, stressful, and exhausting. But they can also be very exciting! But no matter what life may throw at you – things will definitely be changing in one way or another. These can include:
Moving Somewhere New:

Whether you're relocating for a new job opportunity, to be closer to family, or just ready to try a new city on for size, moving to a new place requires more than just a packing list!

Downsizing Your Space:

There's nothing easy about a little spring cleaning, especially if you're on a tight deadline to make room for something else in its place.

Receiving a New Assignment: Deployments or assignments to a new base can often come with little to no notice, making it that much more difficult to get things settled before you head out.

Adding New Family Members:

Whether you're welcoming your first child, pet, or your extended family to stay with you for a time, more than just the dynamics around your home are going to change!

Heading to College:

This rite of passage means big things ahead for the college-bound kid in your life.

Renovating Your Home: Stop putting off that big project to make your space the home you've always dreamed about living in.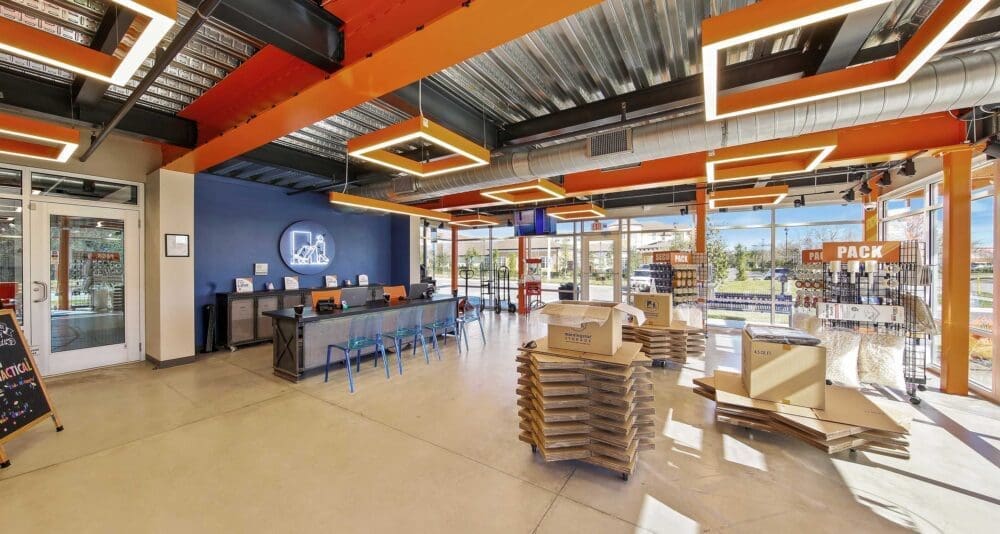 Plus, there are so many times when you'll be expected to embrace a new stage of life. 
Retiring after years in the workforce? 
Moving in together for the first time? 
Living on your own for the first time? 
Going through a trial separation or divorce?
Relocating to a new country?
Becoming empty nesters? 
All of these new stages of life offer complex feelings and require some adjustments on your part – but here are some ways a self-storage unit can help you during that next big life transition.
Flexibility 
When so many things are changing all at once, flexibility is of the utmost importance! You're going to need to find a storage solution that goes with the flow, so you can make important decisions in a moment's notice without unnecessary consequences or restraints. 
We here at Morningstar Storage fully understand this, and that's why we're happy to offer a 12-month rate guarantee that doesn't lock you down into a long-term lease agreement. Pay month-to-month, for six months, a year, etc. We're here to do whatever we can to help! 
Convenience
Many self-storage facilities will grant you access to your space at times that are convenient for you. For example, Morningstar Storage offers 24/7 access to units, so you can get what you need, when you need it! Still, you will want to make sure you're considering storage facilities that are located near your current or future homebase, so you can easily access your items whenever the need arises.
Another thing to consider is how convenient it is to pay your lease each month. If you're going through a big life transition, adding an extra task to your to-do list can be defeating. The easier it is to manage, the better! 
That's why Morningstar Storage allows you to pay online, by phone, in-person, or on auto-draft — all fee free. Utilizing the ACH autopay method is always recommended because it will save you from having to remember to manually go in and pay each month. 
Safety
No matter where life takes you, you want to make sure your things are also being cared for properly. That means keeping things in good working order, regardless of how long they're being left for. For example, you may not want to leave your vehicle outside, unsecured, during an extended period of time. 
That's why self-storage is a great option: you can keep it in a safe, monitored area while you're away. Plus, if you opt for covered storage or indoor storage, it will help protect the vehicle from the elements across several seasons. 
Morningstar Storage offers a variety of storage options for all types of vehicles — we can even store your recreational vehicles (RVs), jet skis, and trailers in our facilities. Plus, check out Morningstar Marinas to find the perfect boat storage solution for your watercraft during the off-season!
Security
Just because you are able to access your storage unit around the clock, it doesn't mean that things aren't still safe and  secure! Storage providers like Morningstar Storage offer enhanced security features to give you peace of mind in knowing that we're keeping a close eye on your most important items and making sure they are safe and protected at all times. Plus, our knowledgeable and friendly staff is always around to answer your questions or lend a helping hand!
Extra Amenities
When it comes to successfully navigating big life changes, anything that will make it easier is that much more valuable to you and your loved ones. 
That's why Morningstar Storage is proud to offer a variety of perks and amenities to make the transition process as easy as can be. This includes: 
Packing supplies such as boxes, furniture covers, packing tape, and bubble wrap

Easy-to-access units with same floor or elevator-friendly access

Free use of a moving truck, where you can reserve to use it anytime that works for you

Temperature controlled units to keep things safe and dry, through any season
Morningstar Storage is Here to Help Navigate the Next Stage of Life
Let our storage units be your belongings' home away from home, no matter what life throws your way. From helping you get things set up with packing supplies and boxes to finding the perfect unit to fit your needs, Morningstar Storage has the entire storage process covered for you. Change can be so overwhelming no matter what, but we here at Morningstar Storage promise to do our part to help you organize and find peace in the midst of all the chaos! Learn more.