Did you know there are lots of people running businesses out of their Morningstar Storage units? It's an unlikely location, but with heated and cooled units, package acceptance, and a secure space, lots of people are finding success using this as their business location or office! We've previously interviewed Tony Evans, Founder and CEO of Fit Storybook, and Joey Britt of SoCo Swings. Today, we're talking to Chantalle Lomax who owns and runs HolographiX Playwear.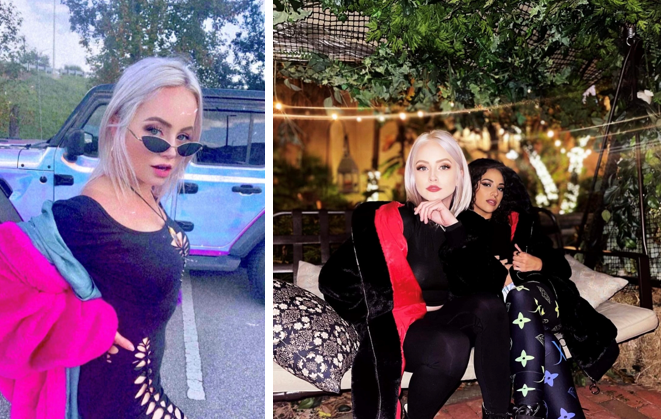 A Little Bit About the Business
How/where did you start? During the pandemic lockdown of 2020, I decided to follow my passion for expression through clothing design. I started in my parents' home, using the living room, garage, and my bedroom as my design centers and storage "warehouse." I worked for several months designing my signature product which was greatly inspired by the music festival world. I wanted to bring my unique personal vibe to a line of clothing that transcends generations and tastes.
What do you love about your job? I love the fact that I knew very little about this industry and the ins and outs of working with other designers and manufacturers, yet I was able to overcome this lack of knowledge and experience. I love that I've had such a great reception from my customers and the local music scene and I feel that I'm making a small but important impact in the fashion world that will someday exceed my wildest dreams.
Working with Morningstar Storage
What is the best part of your location? After investing all that I had in my product line and overloading my parents' house with all my products, I looked around for a good solution that would fit my needs and Morningstar turned out to be the right solution. I have to give kudos to Lisa Palmer for working with me in getting into Morningstar; she was absolutely amazing and our business relationship has grown into a genuine friendship, I cannot give her enough praise.
Do you have any tips or tricks for people working out of storage? Organize, organize, organize! Stay on top of your inventory, you'll need a great shelving system and an efficient inventory process and methodology. Did I say organize?
Running and Growing a Business
How are you driving business? I have my website (www.holographixplaywear.com) and I regularly attend local music festivals and music venues, doing popup displays where I sell my products and immerse myself in the community. I also aggressively use social media (Facebook and Instagram) to advertise my product and am still learning the ropes, but continuously working to improve.
What does your growth look like? Due to the current economic climate growth has not been as rapid as I would like, but it has been steady. Less than two years into this endeavor my business continues to gain traction, my name and brand is getting out there and I see great things happening in the future.
How many people do you have on staff? I'm mostly the "staff" but I have several close family members and friends who collaborate with me regularly, so I would put that number at 6 people who are regular and steady collaborators.
Any advice for other entrepreneurs? If these past couple of years have taught me anything, it's that we need to rely on ourselves and our skills, that chasing your talent and passion takes a lot of hard work, that immediate gratification is not coming, and that you HAVE to stay the course and be ready to adjust at any time. Agile is the key word.