There are a lot of reasons you may need a storage unit. A home remodel project, summer break during your children's cross-country university, or just in need of more space in your home to welcome a new family member, are all reasons you might be on the hunt for a self-storage solution. 
But there are a lot of options out there — and not all of them will fit your specific needs. So here are ten questions you need to ask yourself (and the staff at the storage facility you're considering) before renting your very own self-storage unit.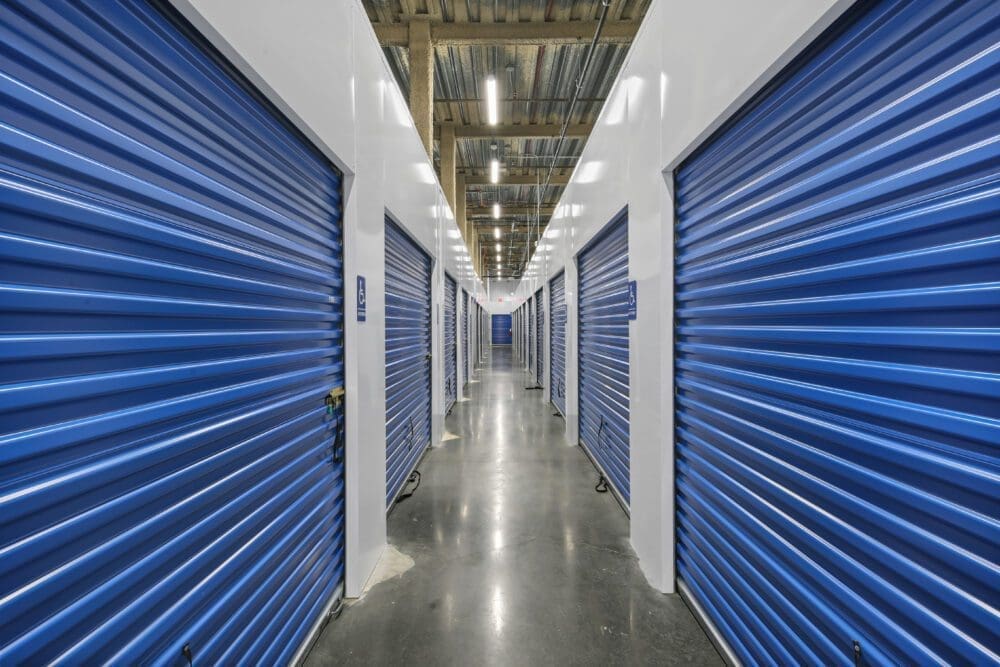 1. What types of items am I looking to store?
When it comes to determining the best type of self-storage solution, it's very important to understand what exactly you will be storing. There are quite a few things you should never put in a storage unit, such as:
Perishable items and food

Animals and live plants

Dangerous or toxic materials

Firearms and ammunition 

Electronic equipment

Strong-scented items
If you're looking to store extra home items like furniture, clothes, holiday decorations, etc., then a self-storage unit is the perfect solution! Depending on the amount of items you're hoping to store, you will need the right sized unit to fit everything and still be able to access things as needed. Plus, you'll want to find out if its climate controlled if you have delicate items in the storage space. 
> Morningstar Storage Tip → If you're looking for a storage unit to properly store your wine collection, there are additional factors you'll need to consider when selecting a storage facility. Get the scoop, here. 
2. How long will I need to store my things in this storage facility?
If you're looking for a semi-temporary solution, a storage unit is the perfect option! It's the perfect transition for a variety of reasons, including:
College-aged students who live out-of-state and need a place to store items during the summer when they're out of the dorms

Families in need of some extra storage space, whether they are remodeling their homes or expecting a new family member

People getting ready for a temporary or short-term move

Small business owners who need extra space for their inventory
Of course, there are reasons you may need a more long-term solution:
Planning to move in a few years? A storage unit is the perfect place to store extra furniture that doesn't fit, but you know you'll use
If you need to clear baby gear out but want to keep them for future use
How long you plan to keep your storage unit may impact a few things:
How close to elevators do you want your unit? If it's a short-term solution and you'll be getting into your unit quite often, closer to the elevators, or even a ground-floor unit may make most sense
Are you storing furniture for a longer period of time (or over the summer in the South), you will definitely want a climate-controlled unit
If you plan to keep your unit for several years, you might want to "size up" to ensure you can comfortably grow into it
3. Is the storage facility clean and secure?
Obviously, you want to feel good about the place you're entrusting your belongings to, for however long, so you want the units and general areas to be clean, safe, and secure. Here are some things to ask the staff:
What security measures are taken at this facility? Do you need a code, key, or card to get in and out of the facility?

Are there security cameras in place around the property to ensure only those renting units are allowed inside? 

Are common areas kept clean and orderly?
Signs of poor maintenance and general upkeep can be a concerning sign that the facility isn't being cared for properly — which no one wants to chance when it comes to their own property!
4. What amenities are important to me?
Every storage facility is going to have different amenities available, so you need to determine what's most important for you and your needs. Here are some common amenities you can ask about to see if they are available while evaluating a potential storage facility:
Ease of access

: do you have 24/7 access to your unit or are there specific business hours you'll need to work within? 

Climate-controlled facilities

: are all (or some) of the units climate-controlled in order to keep your valuables safe from the varying temperatures and humidity levels outside?

Security options

: how do they secure the facility to ensure your unit and valuables are kept safe around the clock? 

Pest control

: what measures does the facility take to protect your items from pests, rodents, mothballs, etc.?
5. Is it conveniently located near where I am looking to store my things?
You want to make sure you're considering storage facilities that are located near your current or future home, so you can easily access your items as needed. And it might be helpful to find a company with multiple locations if you intend to move after a period of time. 
6. How can I pack this storage unit to maximize space?
Even if you're not planning to visit your storage unit on a regular basis to remove any items you might have a need for, it's still important to properly pack your storage unit in a way that makes sense. 
Place the heaviest items at the bottom and back of your storage unit, as well as anything you know you definitely won't need to access anytime soon. Make sure all labels are clearly displayed so you can easily peruse the contents of each box or tote without needing to dig through them to find things you may need. 
Properly wrap and store all furniture to ensure it won't be damaged while it's in the unit, and try to keep things neat and orderly as you go in and access the space so you don't end up with a mess on your hands when it's time to move out of the storage unit!
7. What's my budget?
Everyone has a budget in mind, so be sure to find a solution that fits within your given budget. But don't forget — there might be extra charges or initial fees to consider, too. Ask the following questions to make sure there are no surprises down the road:
Are there going to be additional fees on top of monthly rent?

Is there an initial deposit required, such as a security deposit?

Are there any discounts or specials available when I'm ready to sign up? 
8. Do I need storage insurance? 
In many cases, a storage unit company will require insurance, but coverage options will always vary, so it's important to know what's expected of you if you decide to go with their facility. In some rare instances, storage insurance can be waived, but make sure you ask the staff before committing to anything.  
9. How should I arrange my unit to easily access things down the road?
Depending on the size of your unit and the amount of things you need to store at once, setting things up properly from the start will bring you the most success with your unit! 
Start by placing heavy items at the bottom and back of the unit, and build up from there

Label everything clearly or use plastic tote bins to easily see what's stored inside each

Place all items at the front of the unit to easily access items you'll need on a regular basis

Try to keep things neat and orderly at all times to avoid losing track of anything over time
10. When can I get a tour?
Once you've had all of your questions answered about a potential storage facility, it's time to ask for a tour! 
Morningstar Storage is Here to Help
Let our storage units be your belongings' home away from home. From helping you get things set up with packing supplies and boxes to finding the perfect unit to fit your needs, Morningstar Storage has the entire storage process covered for you. Moving is overwhelming no matter what, but we here at Morningstar Storage have created an exhaustive list that's totally customizable to fit your moving needs! Learn more.