Do you have a vehicle — whether that's a car, a motorcycle, or even something larger — that is in desperate need of a better storage solution? There are a variety of reasons why you'd need to consider better storage options for your car, truck, or motorcycle.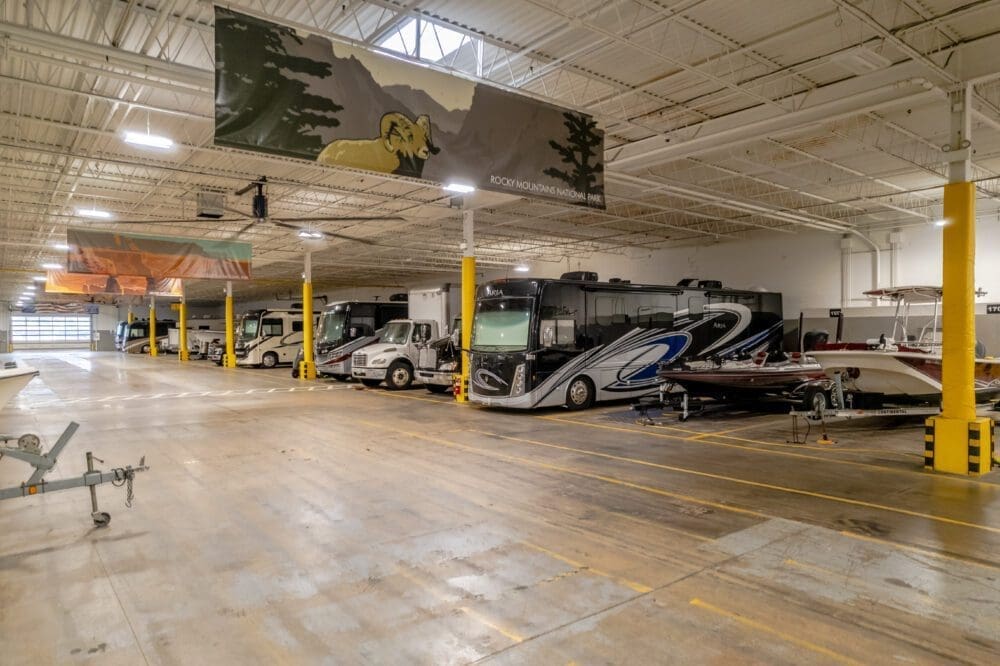 For one, if it's not being used frequently, and is taking up precious space in your garage or is sitting outside for long periods of time in the elements. This can happen quite a bit with antique or collectible cars that need to be carefully stored but are not driven on a regular basis. 
Another situation could be that you or a loved one will be going away for an extended period of time, and not able to use or access the car for months on end. This is a common situation for active duty military personnel, travel nurses, and those who are heading off for college across the country. 
Here are a few things to consider and note in order to properly store your car, truck, or motorcycle in self-storage for a significant period of time.
Selecting the Right Storage Solution
Like all big decisions, the first thing you will need to do is research about the type of storage solution that is going to work best for your individual situation. Here are a few questions to ask yourself first.
What's your timeline for storage?
Will you be needing to store your vehicle for just a few months, a year, or a few years of storage? Also, will you need flexibility with this timeline — for example, you return home from deployment earlier than expected or need to push things back if you're delayed?
What season(s) will you be storing it in?
Depending on where you're located, different seasons could mean a different range of elements for your vehicle to encounter. 
How big is your vehicle?
You'll be considering different size storage options, depending on the size or type of vehicle you're storing. A motorcycle is going to need a smaller, more secure storage option, while a larger vehicle like a truck will need more space but could still be stored outdoors without major issue. 
What type of storage do you want?
There are a couple of vehicle storage options to think about. 
The first is uncovered outdoor storage, which means it will be in a safe and secure place but still out in the elements. 

The second is covered outdoor storage, where it will be safe from direct sunlight, rain, snow, etc. but still outdoors and susceptible to whatever the wind blows its way.

The third is the best option, but also the most expensive to consider: indoor storage, where your vehicle will be safe from the elements and secure in its very own area. 
Morningstar Storage offers each of these storage solutions in a variety of sizes — we can even store your recreational vehicles (RVs), jet skis, and trailers in our facilities. Plus, check out Morningstar Marinas to find the perfect boat storage solution for your watercraft during the off-season!
Preparing Your Car for Storage
Just like putting anything precious in a self-storage unit, there are a few important things we recommend you do to your vehicle before storing it for a significant period of time. 
Clean & Prepare Your Car or Motorcycle 
Clean away any dirt, dust, or debris on your vehicle — both inside and out. Be sure to remove all trash and leftover belongings so no funky smells stick around even after you leave. Use a protective cleaning product on any vinyl surfaces so they don't dry out and crack over time. Also, carefully clean the outside of the car, too. Failing to do so could mean damage to your paint job over a long period of time. You may even want to put on a wax coating for extra protection.
Perform Routine Maintenance
Set yourself up for success upon your return by performing preventative and routine maintenance tasks on your car or motorcycle before it goes into storage. 
This may include:
Getting an oil change

Topping off important fluids 

Adding air to your tires

Disconnecting the battery once it's in storage

Draining or stabilizing the gasoline with a fuel stabilizer

Having it looked at by a professional to address any larger issues
Tips for Storing Your Car or Motorcycle Successfully
Now that your car or motorcycle has been carefully cleaned and checked out, it's time to put it into the storage unit or area. But there are common mistakes that can be made if you're not careful — so here are a few tips to store things successfully. 
Invest in a weatherproof car or motorcycle cover to protect your vehicle from direct sunlight, rain, dust, and other hazardous things. Even if you're storing it indoors, a cover is a great investment in maintaining your car's exterior. 

Consider mounting your vehicle to keep the pressure off the tires and prevent flat spotting from occurring after a long sedentary period. 

Never put the parking brake on — this can damage your brake pads and rotors, as they could fuse together when engaged for a long time. Instead, use blocks to stop the wheels from rolling. 

Keep all the windows up and the inside of the vehicle sealed off to unwanted critters or moisture. If you're really concerned about this, consider a climate-controlled storage option. 

Make sure your vehicle's registration is up-to-date and keep the title in a safe location — not in storage with the vehicle. 

If possible, try to stop by to start your vehicle up 
Extra Space for Your Biggest Belongings – Trust Morningstar Storage Solutions
Whether you're looking to store your car, motorcycle, RV, or boat, it's always important to pick a storage facility with the features and amenities you need and managers you can count on. Choose from vehicle storage of all sizes in a wide variety of covered and standard outdoor parking or indoor units that offer protection from the elements. With over 90 locations spread all across the States, we're here to help you make the best decision about where and how to best store your precious belongings.