Do you have a storage need but are unsure what type of storage unit you should be looking into?
Let us help you narrow it down with this easy, four question quiz!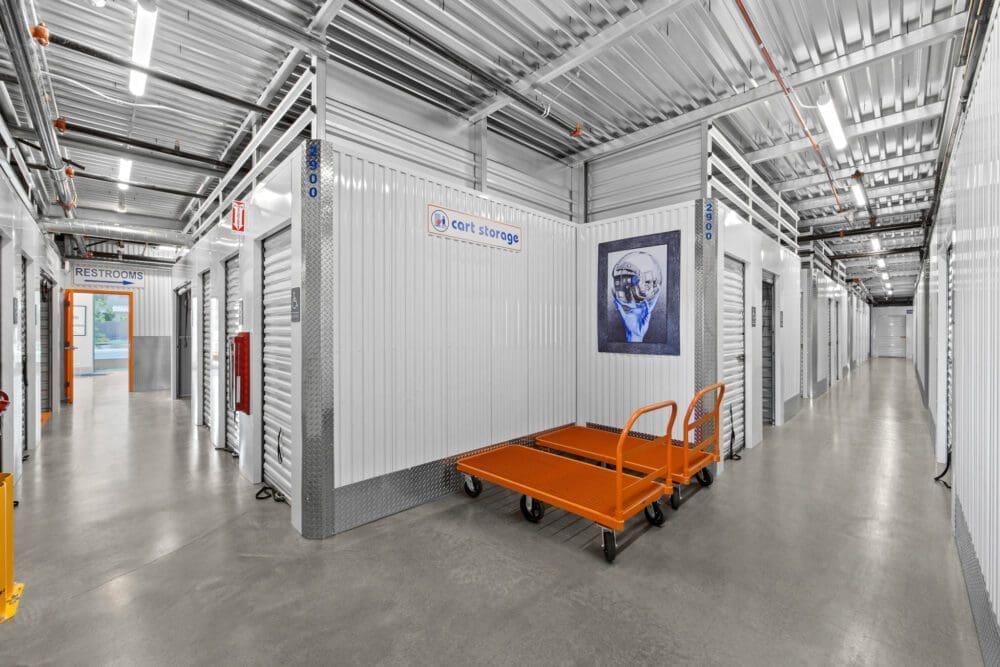 What situation is the closest to what has you considering a self-storage unit right now?
I am launching my

small business

and need a place to store inventory as the business grows. 

I need a safe place to store valuables,

family heirlooms

, and precious antiques without worrying about mold and mildew destroying these priceless things. 

I am making a cross-country move but need a place to store my entire home —

including my vehicle

— while I look for a new house to buy. 

I need a place to store seasonal items during the off-season, including my boat. 
What word best describes the type of item(s) you're storing?
Office equipment as well as inventory — clothing, home staging items, packaging materials, tools and machinery, etc. 

Antique furniture, family pictures and documents, precious jewelry and heirlooms,

baby clothing and toys

, etc. 

Household items and furniture, dishware, linens, books, and larger items like vehicles, cars, motorcycles, etc.

Patio furniture,

Christmas decorations

, lawn mowers,

camping gear

, grills, golf clubs, bikes, skis, snowboards, fishing equipment, and different types of boats. 
When it comes to a storage solution, what's the most important aspect for you? 
Space — I want to be able to expand my business and have my storage space grow as my business grows. 

Temperature control — I don't want to worry about my precious items growing mold or mildew, or being vulnerable to pests or inflated temperatures during the warmer months.

Security — I want to make sure my things are safe and secure around the clock. 

Convenient access — I need to be able to get into my storage space when it's most convenient for me, and get my boat into the water when it's best for my schedule.
How long do you need to store your items? 
I'm not sure.

For the foreseeable future.

For a few months at the most. 

For at least a full year, if not longer. 
Ready for the results?
If you picked three or more 1's…a medium to large self-storage unit is the perfect solution for your small business!
Obviously, things change moment-by-moment for small businesses, which is why you need a flexible, smart option to store your inventory, house your office supplies and equipment, and give your business a physical address. Morningstar Storage is proud to provide a variety of amenities and services, specifically tailored to help your business grow. 
Here's what you can expect when you access a Morningstar Storage facility:
24/7 facility access with enhanced security features for peace of mind

A clean, clear and safe workspace that is temperature-controlled for ultimate comfortability

Specialized storage unit customizations such as electrical outlets, etc.

Flexible, month-to-month leasing options with a budget-friendly, 12-month price guarantee

Morningstar Storage's team can

accept business deliveries

on your behalf, and put them safely in your unit for you.

Ability to upgrade to a larger unit in the same location if the need arises
If you picked three or more 2's…a small to large sized self-storage unit is the perfect place to safely store your most important items.
In most cases, storing priceless family heirlooms, collectibles, future hand-me-down baby items, and antiques requires much more effort than just keeping a few boxes packed up in the attic or basement — especially if these aren't temperature-controlled spaces. Instead, it's important to utilize a self-storage unit that won't be prone to pests or rising moisture levels and unstable temperatures. 
Avoid the heartbreak of finding moldy and mildewy items when you use a Morningstar Storage temperature-controlled unit, keeping your things well-preserved for many more years to come. 
If you picked three or more 3's…it's time to consider the different types of vehicle storage options that Morningstar Storage offers its customers.
There are a three options to consider when it comes to storing a vehicle such as a car or truck in self-storage:
Uncovered, outdoor storage

: The most cost-effective option that keeps your vehicle safe and secure but still out in the elements. 
Covered, outdoor storage:

Keeping your vehicle safe from direct sunlight, rain, snow, etc. but susceptible to whatever the wind blows its way.

Indoor storage:

The most expensive but safest solution to keeping your vehicle out of the elements and secure in its own space. 
Morningstar Storage is proud to offer each of these storage solutions in a variety of sizes, allowing us to store even your largest recreational vehicles (RVs), 4-wheelers, dirt bikes, motorcycles, jet skis, trailers, etc. 
If you picked three or more 4's…check out our sister company, Morningstar Marinas, and see how we can safely store both your seasonal items and your large watercraft. 
Depending on the size of your boat, you may be able to utilize one of Morningstar Storage's larger units — for example, a kayak or canoe can seamlessly fit in these spaces with your seasonal decor and furniture. However, if you're looking to store a larger watercraft such as a pontoon or fishing boat, we highly recommend learning more about our sister company, Morningstar Marinas, who offers a variety of the following storage options: 
Dry storage:

Keep your vessel away from the elements to maintain its integrity over the cold, damp winter months. Your boat is stored on a multi-level rack in a completely enclosed building or on an outdoor rack system under a roof. Anytime you want to use your boat, our expert team will lift, launch, retrieve, and return your boat seamlessly. 
Wet slips

: In-water dockage via designated wet slips with electric, water, and WiFi hook ups at the ready. We also offer call-ahead concierge services for easy access anytime. 
Winterization services

: If you choose to berth your boat at a private dock or store it on a trailer, we also offer indoor dry services and winterization services to protect your boat against the winter elements and can get it ready in the spring. 
Morningstar Storage Can Help
Let our storage units be your belongings' home away from home, no matter what life throws your way. From helping you get things set up with packing supplies and boxes to finding the perfect unit to fit your needs, Morningstar Storage has the entire storage process covered for you. Learn more.